Nailist / Narumi Yoneyama
One-of-a-kind haute couture art displayed at customers' fingertips.

Her detailed nail art can not only fill our hearts, but also cheer us up and give us confidence, even in our busy everyday life. Manicurist Narumi Yoneyama operates AOEWDnail salons in Daikanyama and Ebisu, Tokyo. She applies beautiful nail techniques to small nails with only a few cm2 in a heartfelt manner.

When looking at her photos on Instagram, a collection of her nail arts, I was impressed by her view of natural beauty particularly associated with "raw beauty", the theme of ARTIDA OUD. So, I interviewed her.  She told me that the nature which she encountered during trips inspired her creation of nail art. She enclosed her impression of the beauty of nature, which is rapidly changing, in her nail arts.

While I was fascinated by her one-of-a-kind nail art that draw attention in the nail industry, I asked her about her career path up to now and her passion towards nail art that provide her enough fun to last a lifetime.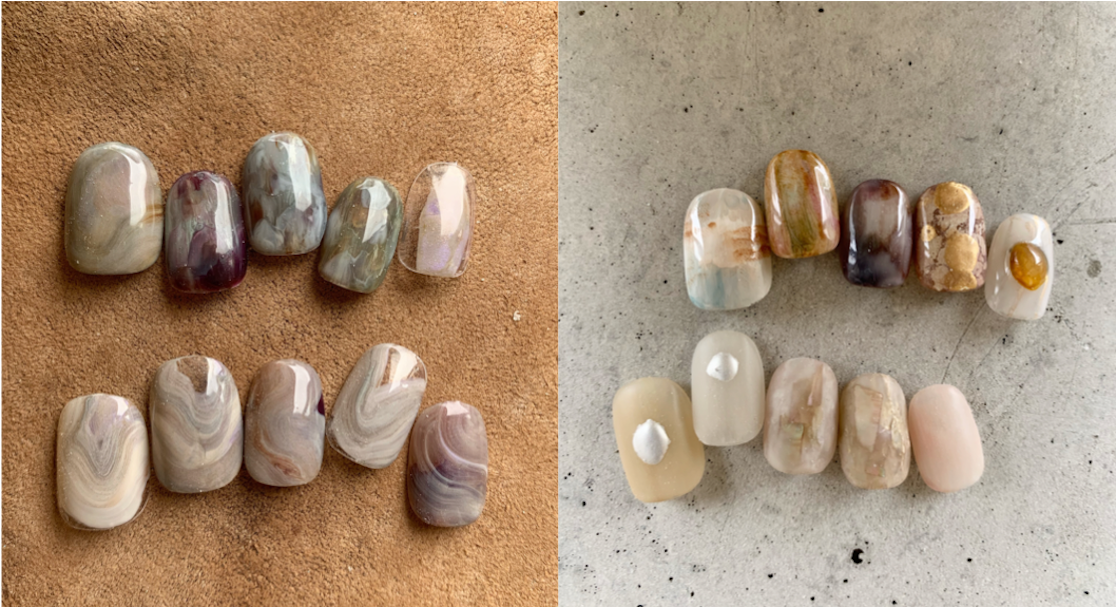 I like nail art more and more over time.


―――How did you become a manicurist?

In order to become a beauty advisor, I entered a vocational college. Although I participated in many classes including beauty treatment and makeup, my teacher always praised my nails a lot. So, I thought that I would be able to build confidence as a manicurist. Such a small thing was the start of my career as a manicurist. To begin with, I wasn't longing to become a manicurist. 13 years have passed since I became a manicurist and I felt that I came to like nail art more and more over time.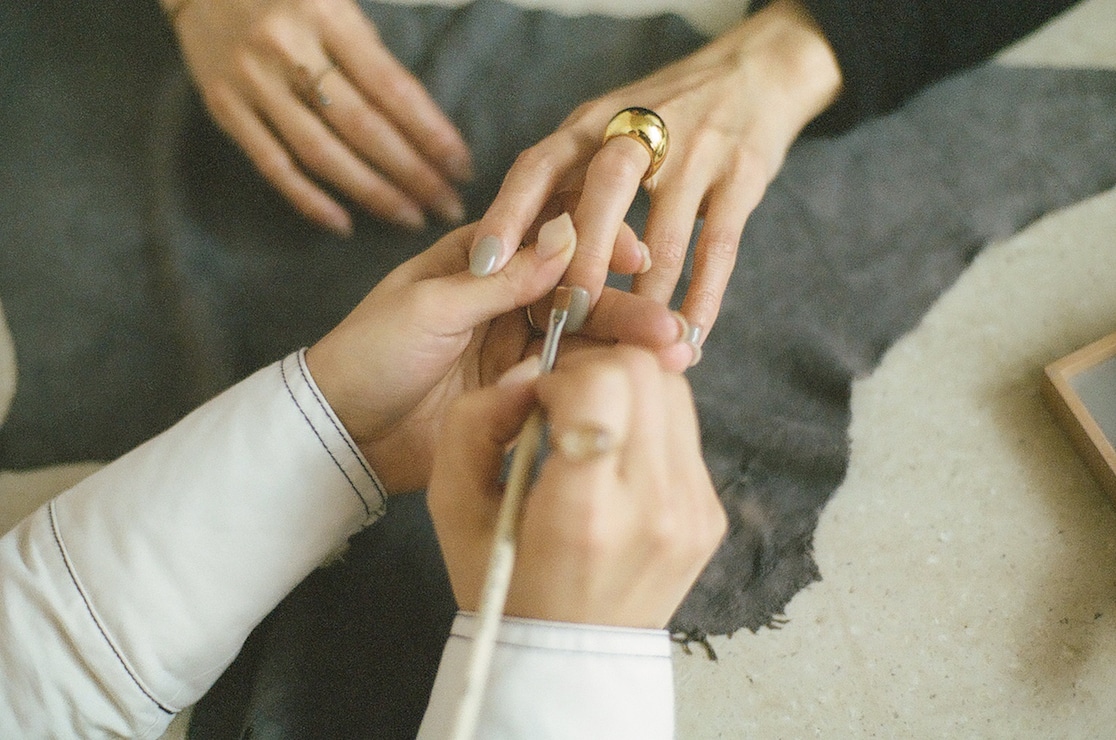 ―――What attracts you to nail art?

I can freely express my creativity while considering what looks good on the nails of each customer. Although I sometimes ask my customers, "Which nails do you like?" and they select their preferred nail chips from the collections, I'm especially grateful if my customers give me a lot of flexibility in their requests, like "Please coordinate my nails with this jewelry."

I value the skin tone and personal vibe of each customer. After the customer selects nail chips, I try to match the tone of the nail art to the skin tone and personal vibe of the customer. For example, you cannot easily alter the buttons or tone of your dress, but I can elaborately change the color of the nails or create decorations that match each customer. That is what I like about nail art.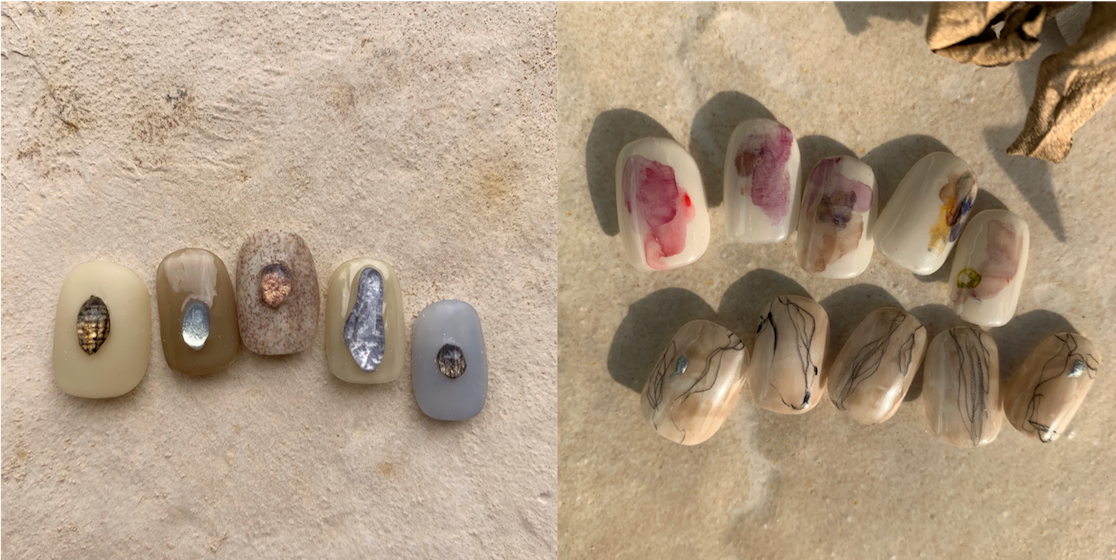 ―――Your nail art looks like a luxury haute couture item.

Since I can make a wide range of nail arts, not only those using existing materials, I completely became a nail geek.  I don't care if it's a trend or not so much but I always really enjoy researching how to add new techniques into nails or the style to make nails interesting. So, I believe that I can work as a manicurist for the rest of my life.


―――Did you have any grateful moments when seeing each customer face-to-face?

Yes, I have many grateful experiences with my customers. The best is when I made bridal nails for a long-term customer who has come to my salon since its opening. Since the customer comes to my salon every month and I treat her nails while chatting, we've become closer. Decorating a special moment of her life touched me deeply.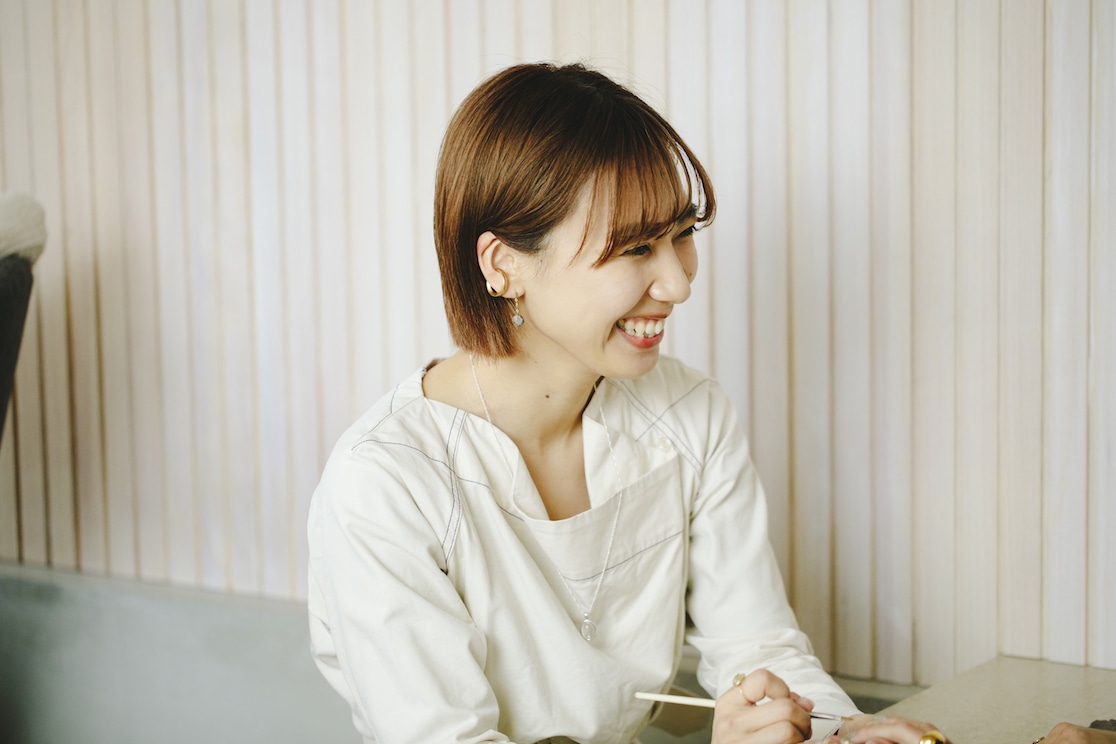 ―――Could you tell me how you started AOEWD, your nail salons?

Perhaps, I'm the kind of person who is never satisfied with anything. So, I had worked at five or six salons before opening my own. After I completely learned everything there was to know at one salon, I felt like I wanted to learn something else. As such desire grew in me more and more, I began to think that I wanted to start my own salon that could make me more satisfied. Then, I sought advice from the owner of the salon where I was working at that time. The owner told me that I could be in charge of the reopening of one of the salons. It turned out that there were a lot of tasks that needed to be done for this salon. However, I was happy that the owner needed me.

I asked the owner, "If I can restore the salon in one year, could you sponsor me when I open my salon?" As I worked very hard, the salon was successfully back on its feet in one year. It was when I was 26 years old that I opened my salon at a small apartment in Ebisu.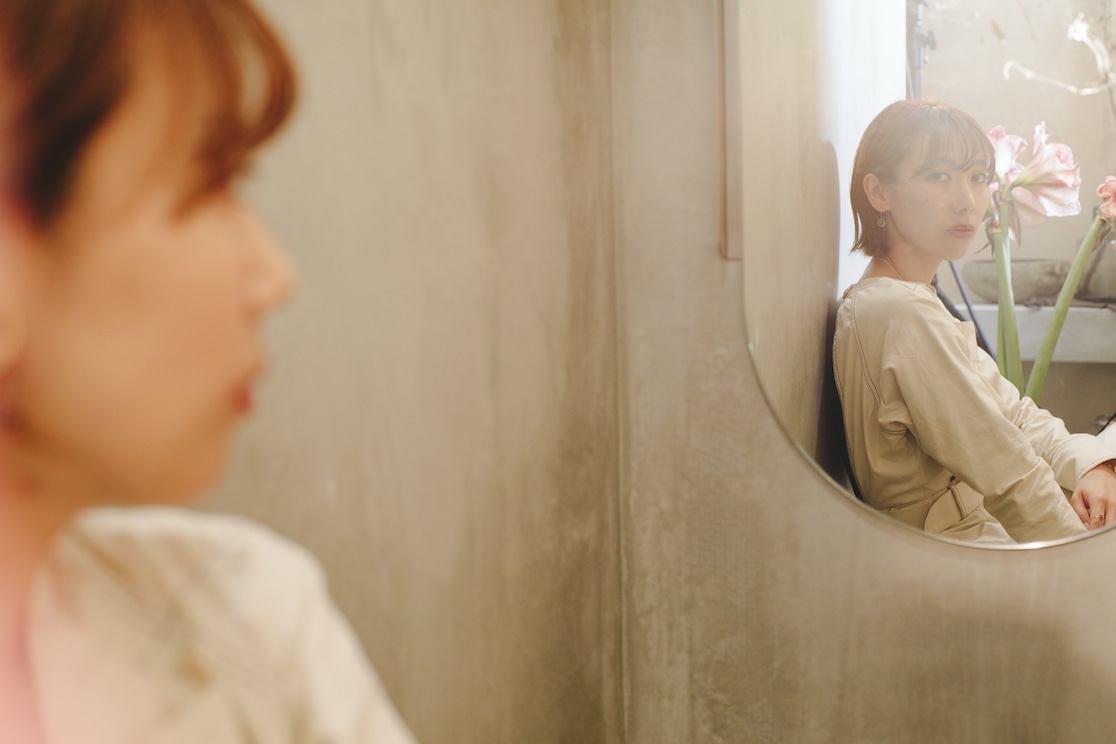 "I may not fully understand the situation others are in"


―――I think that you entered a female-dominated profession. Is there anything you're always aware of during your job?

I always try to be modest when considering others who are around me and to think "I may not fully understand the situation others are in". Since I work with people of different ages, birthplaces, and lifestyles, such as living alone or with parents, it is difficult to fully understand other people's situations. However,putting myself in their shoes might be the proper way to talk to them face-to-face.


―――Did you experience a change of perspective when you decided to open your salon?

Yes, I did. While I had to do everything without any help from others, I didn't feel that it was hard any more. I reset myself to think "I'm doing it because I want to do it", not "because someone told me to do it".  Aya, who is the present manager of the salon in Ebisu, has greatly supported me until now.  We are the same age and were in the same class at vocational college. We have been working together since then.


―――Is it true that AOEWD was inspired by your name and Aya's name?

A in AOEWD was taken from the a in Aya and the N in Narumi is included in W. I also wanted to include the word "mode" as it has a meaning of cutting-edge. We always want to create something new, not making something that already exists. I don't know why but I wanted the name to end with the sound "d".  In that sense, I felt that there is a connection between our name and the name of ARTIDA OUD.


―――Since I felt there was a kind of resonance between the worldview of your nail arts and ARTIDA OUD's worldview, I decided to interview you for this edition. How did you make your impressively creative nails?

Since I like traveling, I visited many places including deserts in Morocco and Arizona in the USA.  Does ARTIDA OUD value the shape of each germ as originality?  I'm attracted to nature too, including landscapes and trees, because everything in nature is unique.

Some of my nail art was inspired by Antelope Canyon when I visited there.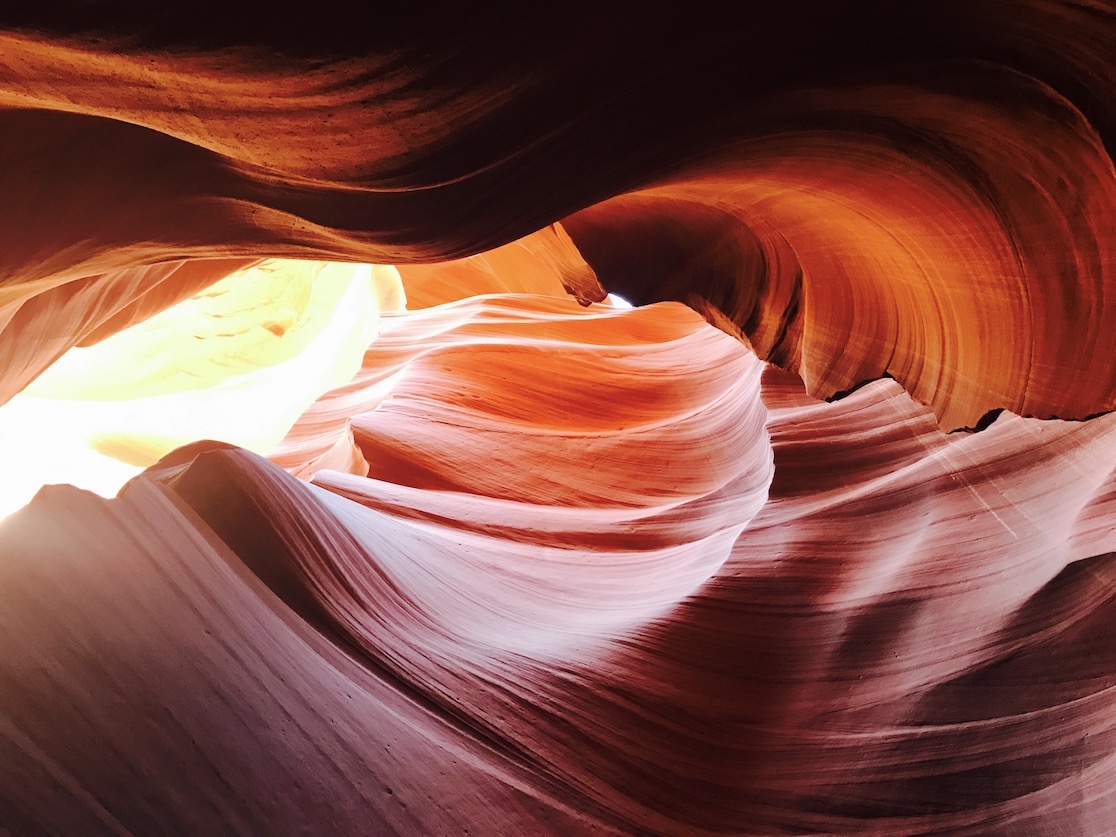 I was overwhelmed by impressive great canyon waves. I even created nails by converting my impression there into my work.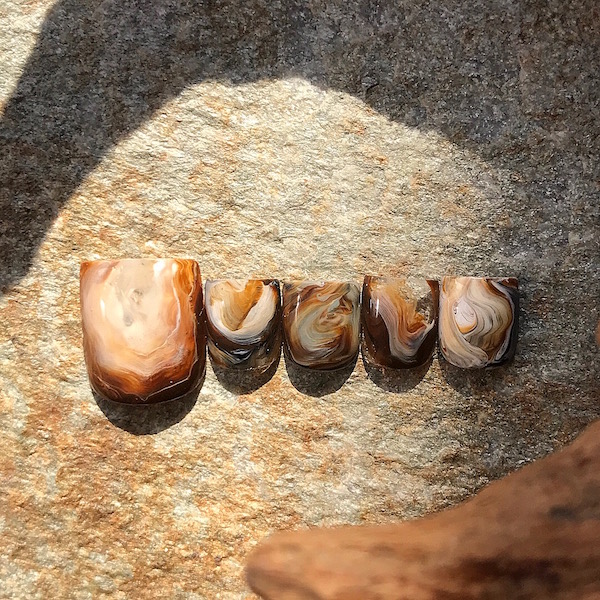 Although I create my nail art based on inspiration from nature, I also like to try putting various materials on the nails and to see how they look. As the result of such trials, I  created unexpectedly fantastic nails many times.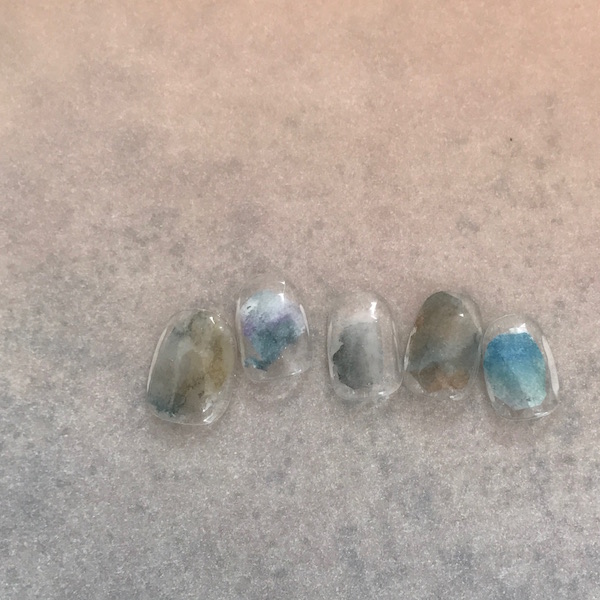 This is my nail art made in the time shortly after I opened AOEWD. I thought that it would be interesting to put the stones on the nails like the above photo . Then, I created this nail art based on the image of the stones. I always want to create something new.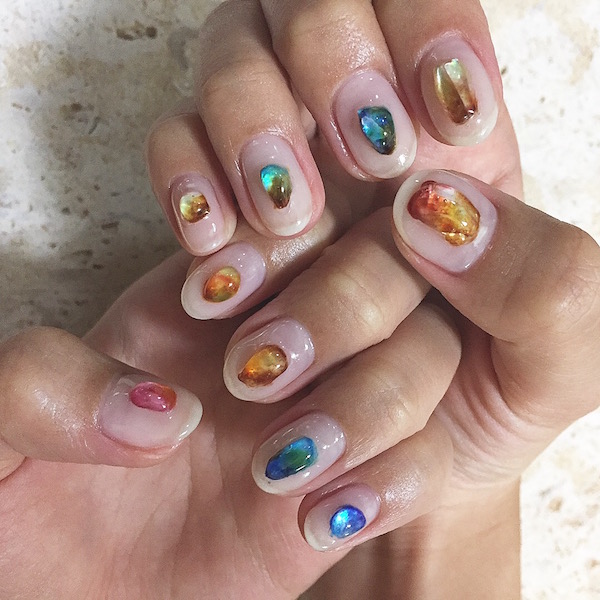 Collaboration of ARTIDA OUD's jewelry and AOEWD's nails


―――I asked her to create nails by using ARTIDA OUD's jewelry. What ideas did you have when creating each nail?

I expressed many layers of the earth with earthy colors applied to the nails in the  photo below. These earthy colors enhance the strong impressions of the jewelry.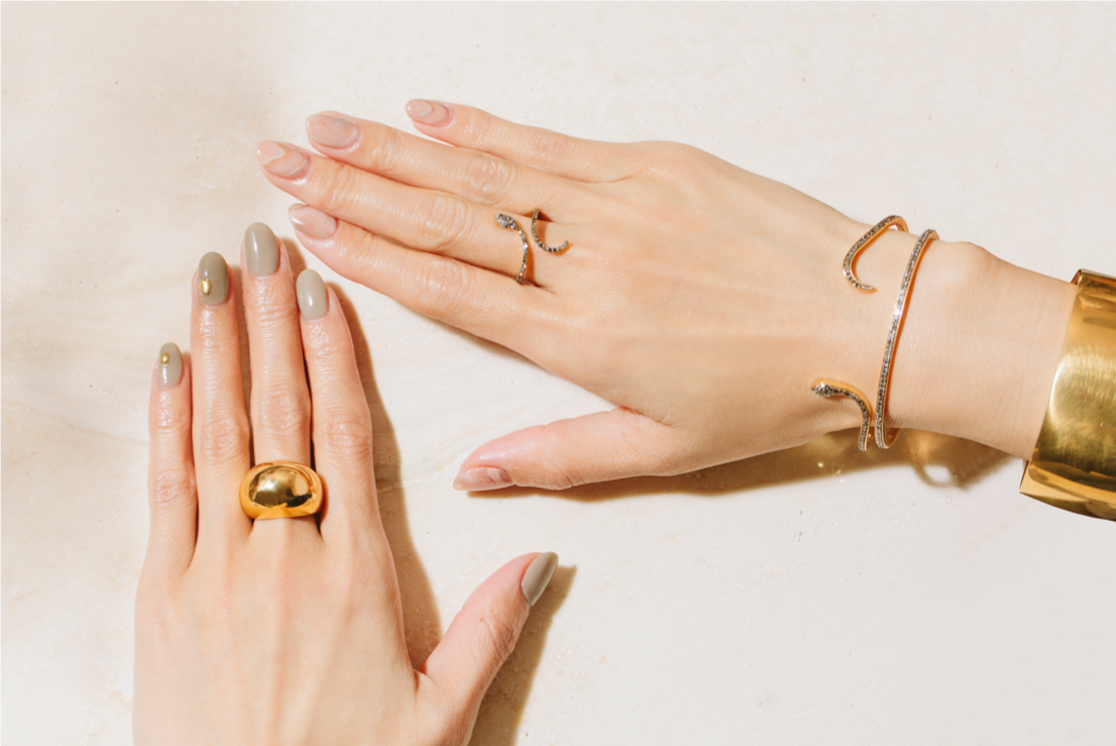 (The middle finger of the left hand)"bone" bean dome ring 15,120yen (with tax) / (The middle finger of the right hand)"viper" pave diamond ring 43,200yen (with tax) / (The bangle seen from the top)"viper" pave diamond bangle 75,600yen (with tax) / "lotus" diamond bangle 50,760yen (with tax) / "bone" organic wide bangle 25,920yen (with tax)


The jewelry color was inspired by The Pond painted by Monet. I designed nails that brought out the best color of the material, not reproducing the color of its surface but the one glowing from the bottom.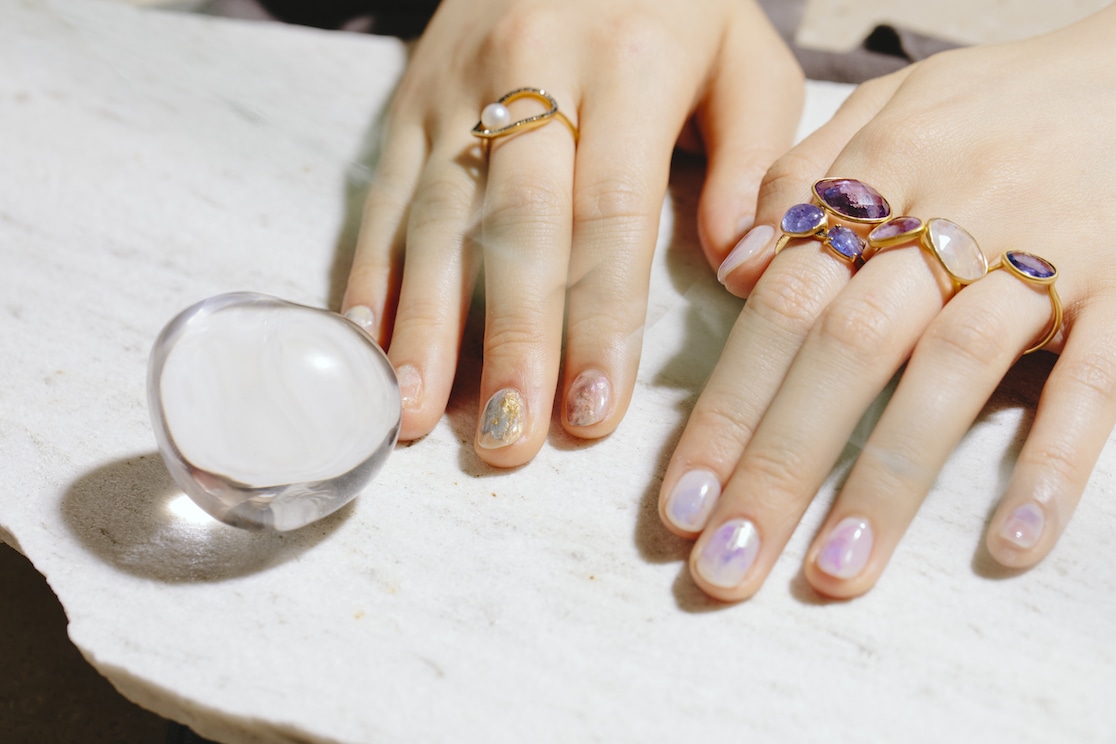 (The middle finger of the right hand)"lotus" akoya flower diamond ring 23,760yen (with tax) /(The index finger of the left hand seen from the top)"elafonisi" tanzanite pave diamond eternity ring 29,160yen (with tax) / "eutopia" K10YG cabochon tanzanite ring 30,240yen (with tax) / "eutopia" K10YG sliced amethyst pebble ring 31,320yen (with tax) /(The middle finger of the left hand seen from the top)"eden" K10YG amethyst stone customize ring 33,480yen (with tax) / "eutopia" K10YG sliced rainbow moonstone pebble ring 34,560yen (with tax) /(The ring finger of the left hand)"eden" K10YG tanzanite stone customize ring 32,400yen (with tax)


I applied AOEWD's special powder to the nails for the finishing touch to make the design of pale light and fresh water look three-dimensional.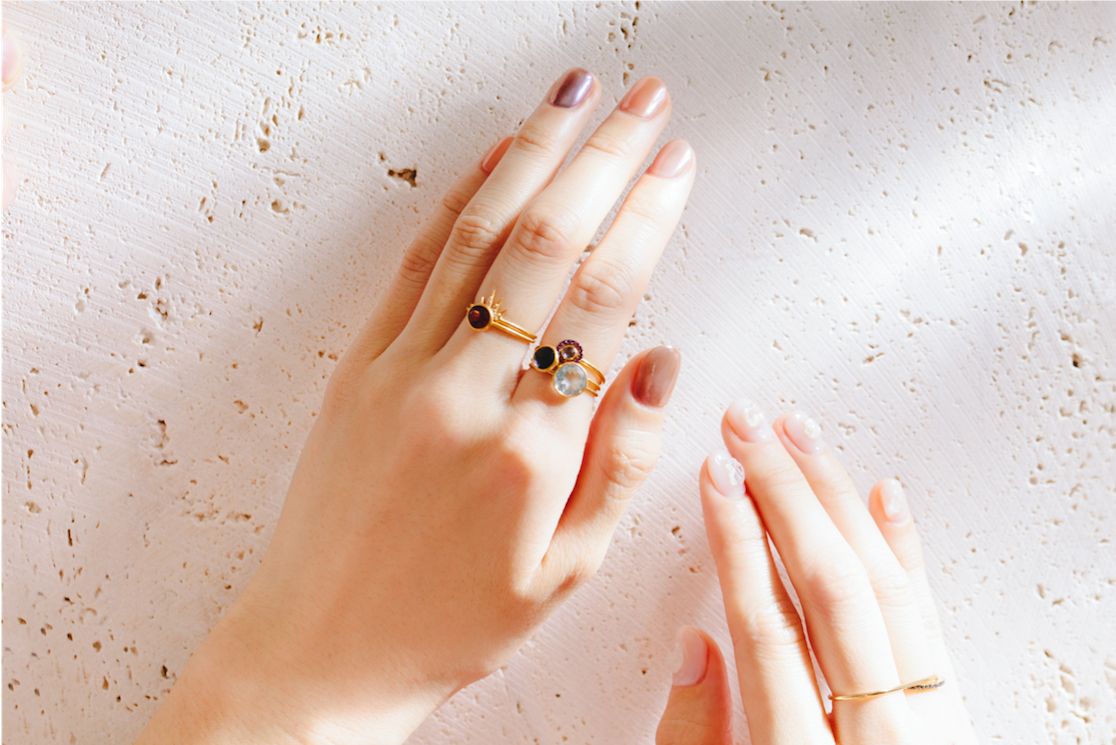 (The middle finger of the left hand seen from the top)"dawn" K10YG melee diamonds ring 24,840yen (with tax) / "eden" K10YG round small rhodelite bezel ring 29,160yen (with tax) /(The index finger of the left hand seen from the top) "jupiter" disque sapphire and ruby ring 17,280yen (with tax) / "eden" K10 round small iolite bezel ring 25,920yen (with tax) / "eden" K10YG round blue topaz bezel ring 29,160yen (with tax) /(The middle finger& the index finger of the right hand)"gaia" pave link double finger ring 24,840yen (with tax)


I designed the nails of both hands to match to the impact of the index fingers. I tried not to disturb the rings but to enhance their clarity.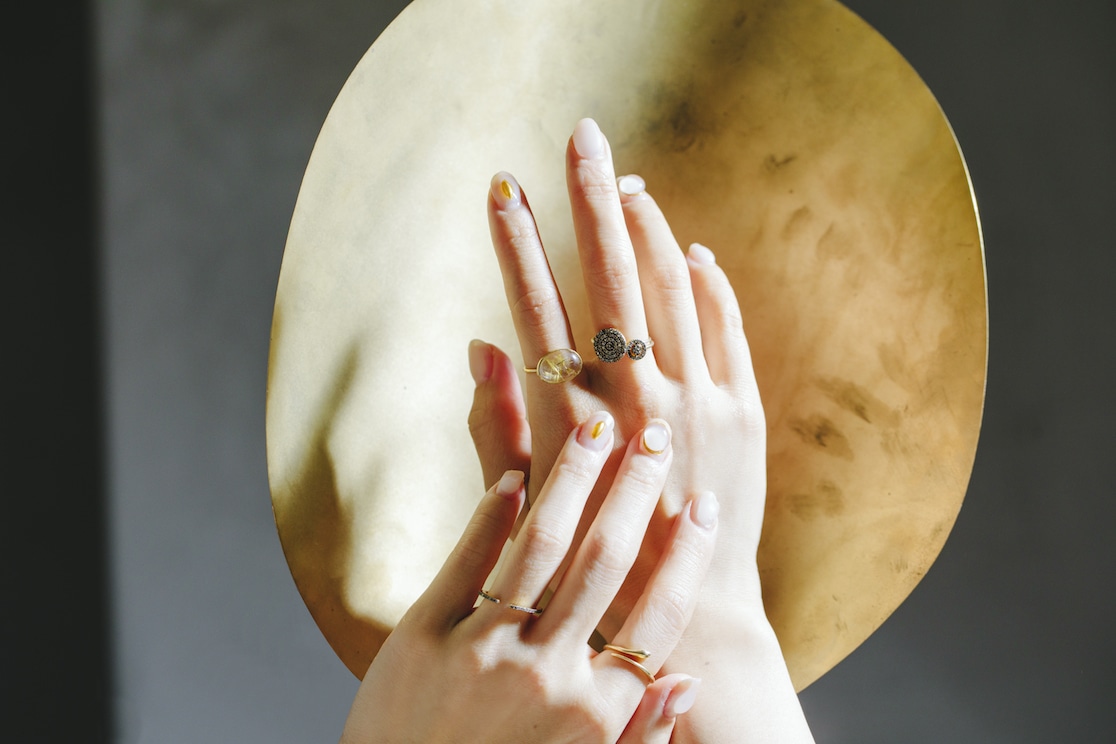 (The index finger of the right hand)"eutopia" K10YG cabochon gold rutilated quartz ring 31,320yen (with tax) /(The middle finger of the right hand seen from the top)"selene" grand-disque pave diamonds ring 29,160yen (with tax) / "jupiter" disque pave diamonds ring 17,280yen (with tax) /(The index finger of the left hand)"viper" K10YG melee diamonds ring 27,000yen (with tax) /(The ring finger of the left hand)"lotus" diamonds ear cuff 12,960yen (with tax)(Using  rings)


―――Do you have any new ideas for your nail art?

What I really want to try is to produce nail colors with natural pigments without using gel colors.  Our salons have a variety of different pigments.  The nail colors made from these pigments don't provide a feeling of painted colors, but a feeling of more natural colors. I want to offer a  one-of-a-kind customized color tone, dedicated to each customer..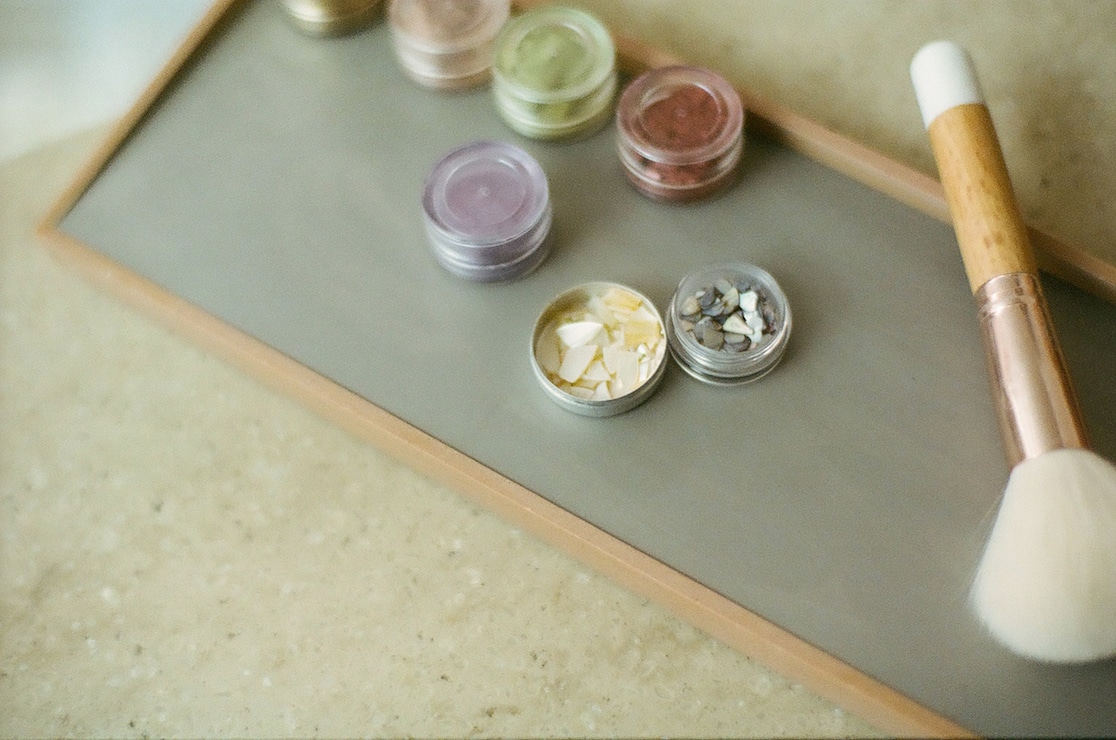 I want to be a manicurist who can always impress customers and offer nail arts that go one step beyond their expectations.


―――What is your motto regarding your work?

Never compromise. I'm the only one who can have a clear vision of the result.  When I receive orders from my customers, I should have a clear image of what I will offer them and do my best to create the nails that will be commensurate with the price.

In addition, my ideal manicurist is one who can always impress customers and offer nail art that goes one step beyond their expectations. My long-term customers often give me a nail order like "What can you do for my nails today?".  My customer said to me, "I like your nail art because I couldn't come up with the idea of your nail design. Furthermore, you included an additional touch to the nails." That made me happier than anything else. I want to keep pursuing my motto and moving forward.


―――You have been teaching nail seminars for professional manicurists all over Japan. What messages do you have for your students?

I started teaching nail seminars after I was asked by an agency through Instagram.  I spent 90% of my working time at the salon before. As the number of seminars has gradually increased, now I spend more time outside the salon. I will teach seminars in Sendai, Aomori, and Kansai area this year too.

Actually, there is a hard line in that certain part of the nail industry. Therefore, I was very happy that I, just an ordinary manicurist, was asked to teach a seminar but also, I was overwhelmed.

In my seminar, students don't make the same design while looking at the model. I only teach them techniques and each student creates their own design. I want to teach them the idea of creating something from nothing. I teach them how I'm working as a manicurist. It will be customers who go from 1 to 100. I want each student to value their individual taste.  When you master nail techniques to some extent, you will feel that you have already mastered almost all techniques. How to improve your skills after that will be depending on whether you like your job or not.  I want students not to only be passive, learning and acquiring techniques, but to be proactive, enjoying and discovering.  I want them to pursue their job because they like it. I said this regarding my own experience too.


―――Do you have fun in your busy life, such as teaching seminars and operating salons?

Actually, I'm going to get married this year. I enjoy talking to my fiancé. I can be myself with him without being nervous and trying to make myself look better. He has ideas that are the exact opposite of mine. For example, times when I was upset about my job he was always on hand to listen to my stories and nicely say to me, "Why do such things bother you?".  His approach seems to suit me very well.  I can feel relieved and think positively when I'm with him.


―――What is your dream for the future?

I want to hold a solo exhibition. To tell the truth, I have kept saying this for about three years. It's not worth holding a solo exhibition if nobody is interested in visiting it.  I want to become a manicurist loved by customers, like they say "I'm looking forward to seeing your nails at the exhibition!". I've been trying to achieve this goal for three years. I hope to have my solo exhibition around next year. My dream gradually becomes bigger and realer than before.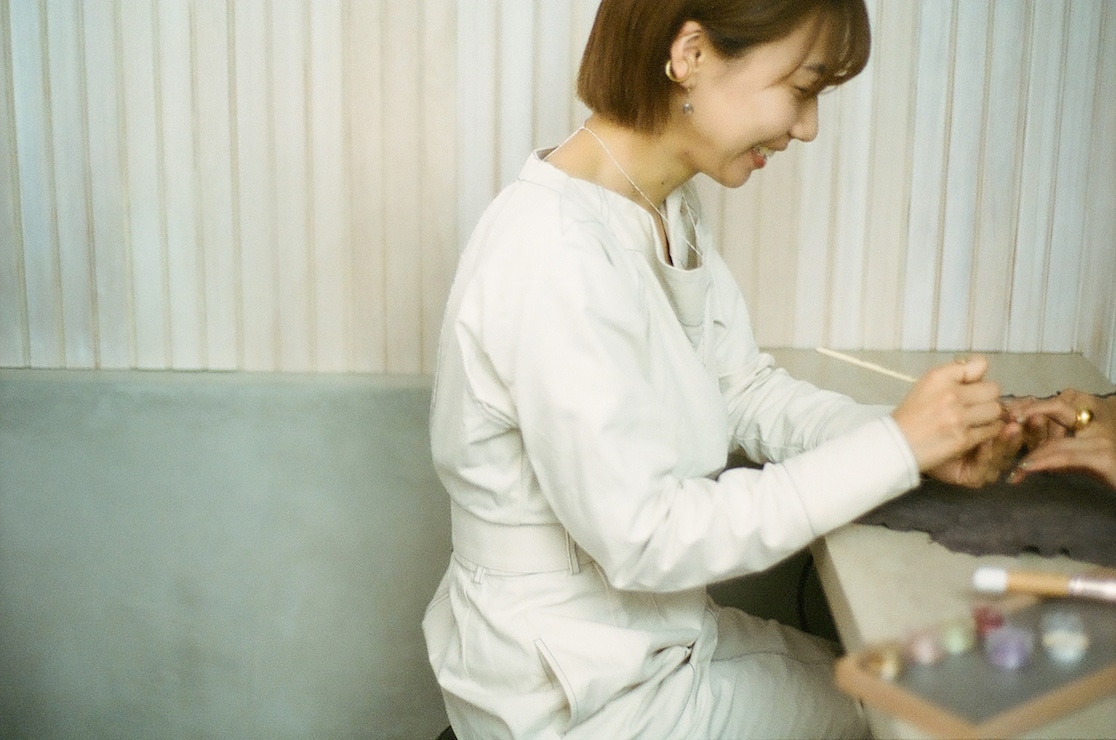 ――― The theme of ARTIDA OUD is "raw beauty", which means the natural beauty of women without making them look lavish. Do you know any women who have such natural beauty?

This is a difficult question for me. Although I have some people who inspire me, I'm always trying not to be consciously aware of them. I think all women who can be who they are look very nice to me. However, I' m afraid to be influenced by someone too much. I think those who can freely express themselves without lying all look  beautiful to me.


―――Natural beauty of women includes their inner beauty. Is there anything that you think has brought you here?

There is a famous quote by Abraham Lincoln, "Where there's a will, there's a way." I think of this quote every time I'm worried about something. There is also the saying "everything depends on how you look at it".  If I have a strong will, I can praise myself and think positively even when I'm upset.

I was an unmotivated person before I met nail art. I didn't know what was fun in the world. Therefore, when I saw people around me having a blast, I thought that this was a fun thing for me to do and find my place in the world."

I encountered Lincoln's quote when I went on a trip using the money I had saved for the first time. When I took a photo of beautiful nature, I suddenly wanted to find a quote to pair with the photo.  At that time, "Where there's a will, there's a way" resonated with me. It was from that moment that I thought I wanted to have a strong will, even if  I didn't have any will before.  


―――Could you tell me if there is anything you like about ARTIDA OUD's jewelry?

I like the items in the "bone' series as well as its name. I generally like organic forms like these gems. When writing "bone" in katakana characters, the sound is the same as "born", which means "birth" in English. That's what I like about the "bone" series too. I want to teach students the idea of going from nothing to something" in my seminars. I always want to keep motivated about creating something new from scratch too.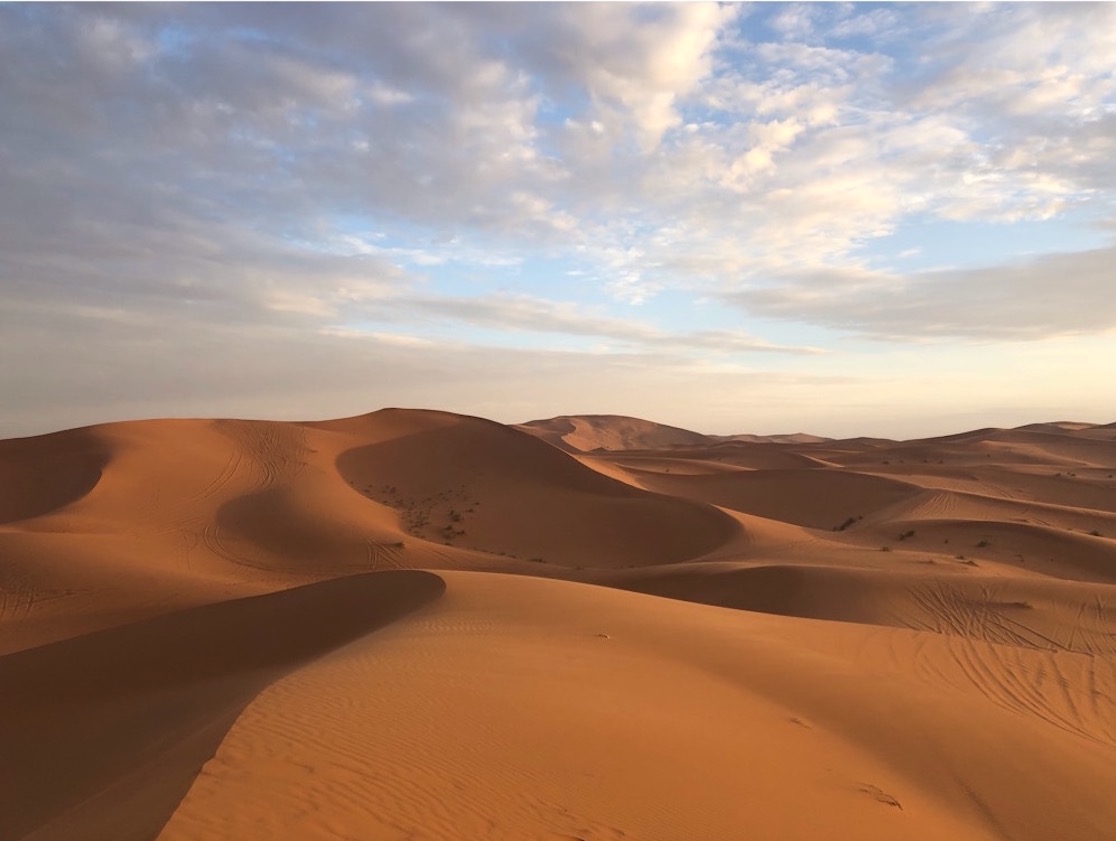 PROFILE

Narumi Yoneyama






Born in Nagano in 1988, She is the owner and a manicurist of AOEWD, nail salons in Daikanyama and Ebisu, Tokyo. She is good at making nail art based on her creative and unique ideas without being bound by existing nail techniques. She gives nail seminars all over Japan, too.

https://www.aoewd.tokyo/

Instagram
https://www.instagram.com/aoewd_nail/




PHOTOGRAPHER/YUYA SHIMAHARA

EDIT/RIDE MEDIA&DESIGN

TEXT/HANAKO FUJITA