Natsuki Yasuda / Photojournalist
At the age of 16, Natsuki Yasuda interviewed the children in poverty in Cambodia as a reporter of friendship for "Children with No Borders". Currently, as a photojournalist belonging to the NPO "Dialogue for People", she has been interviewing refugees, poverty and disasters in Southeast Asia, the Middle East, Africa and Japan, and keeps recording the conditions of the disaster-stricken areas centered on Rikuzentakata City since the Great East Japan Earthquake.
The theme of "International Day of the Girl Child" on October 11, 2021, which widely calls on the international community to promote "girls' rights" and "girl empowerment" is "THINK FOR GIRLS- Wishing for a world where girls can dream again". ARTIDA OUD is now in its fourth year since its launch. Donation was made through a donation project called "I am", which was envisioned since the launch of the brand, to "Children's Educational Environment Improvement Program" in Bihar, northeastern India and led to the construction of a school.
This time, she told us her story with the same desire to create an opportunity to think about the problems that are occurring in the remote area. I hope her strong will and kindness will spread to more people in the world.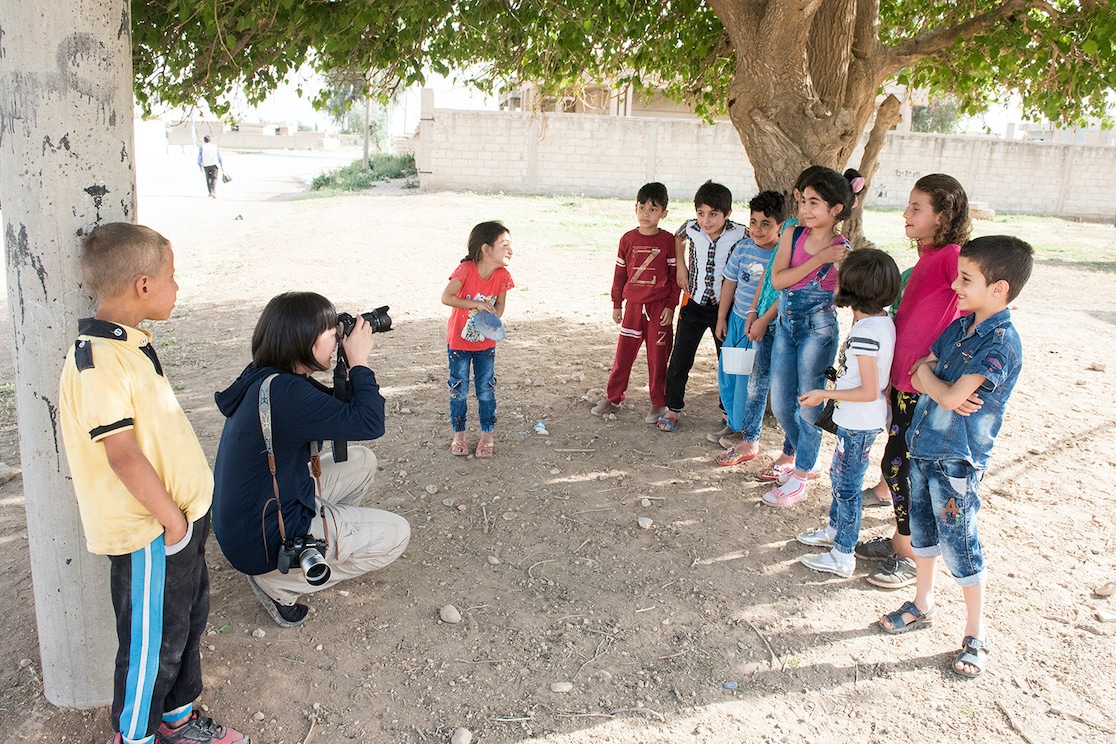 Encountering people is full of joy
―――"Photojournalist" is a job Japanese people are not so familiar with. Is there anything that you keep in mind through the activities?
I always keep in mind whether I can knock people's heart gently without wrenching open it. The rhythm of the heart is different for each person. Not to mention we are facing people who have witnessed terrible scenes of conflicts and disasters. I have interviewed women who have been victims of sexual violence or have received discrimination. Some of them say" I want to tell you right now", while others say, "I have something I want to tell you, but I can't talk about it now". We are not working for major media, so there is no deadline. We won's say something like "Please tell me about it to make it to today's evening paper". I think it's also important to "wait" until the person we interview to open his heart. When they are willing to tell their stories, I want to be a good listener.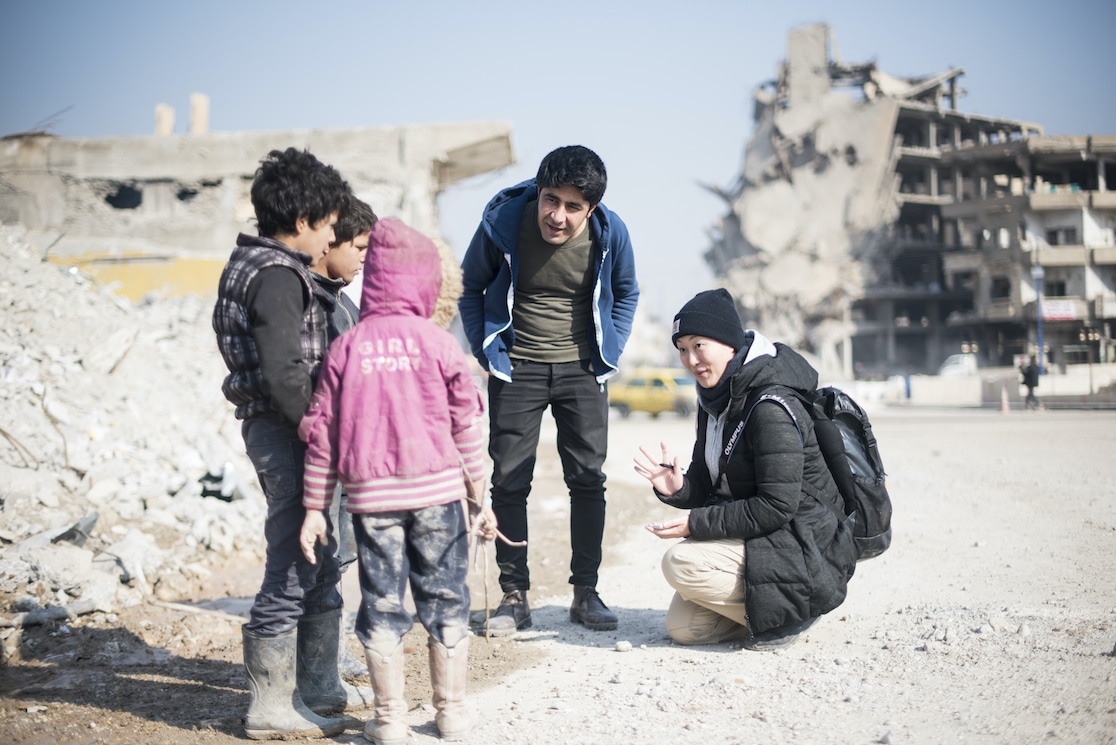 ――― The "Dialogue for People" that you are working for has a mission of "turning the 'indifference' of the world to 'interest' ". What do you consider to be important in creating an opportunity to make people pay attention to the social issues?
I value the idea of "closeness to everyday life". For example, I have been doing interviews to convey the voices of refugees who have fled to Japan through food culture. I usually ask the interviewed person the questions like "What kind of memories come to your mind when you eat hometown food?" or "Why did you have to leave your hometown where is full of memories?" to reach back into their memory step by step through food and convey it with photos and articles.
For example, the refugees and conflict issues sometimes have the dangerous impression such as bombing, and opinion such as "They are different from us" or "It is scary to know about it" tend to keep away the people who can hardly get interested.
Food is a part of everyday life for many people, including me. I endeavor to make a path of heart for the readers with questions like " Which country is this dish from?", "What kind of people make it?" and "Why did that person have to leave his hometown?". I think if the shared feelings through the taste expressed in the words like" It's delicious!" from the people who are interviewed and me can be conveyed to the readers, the door of their hearts with the feeling of "wanting to know more" will open all at once.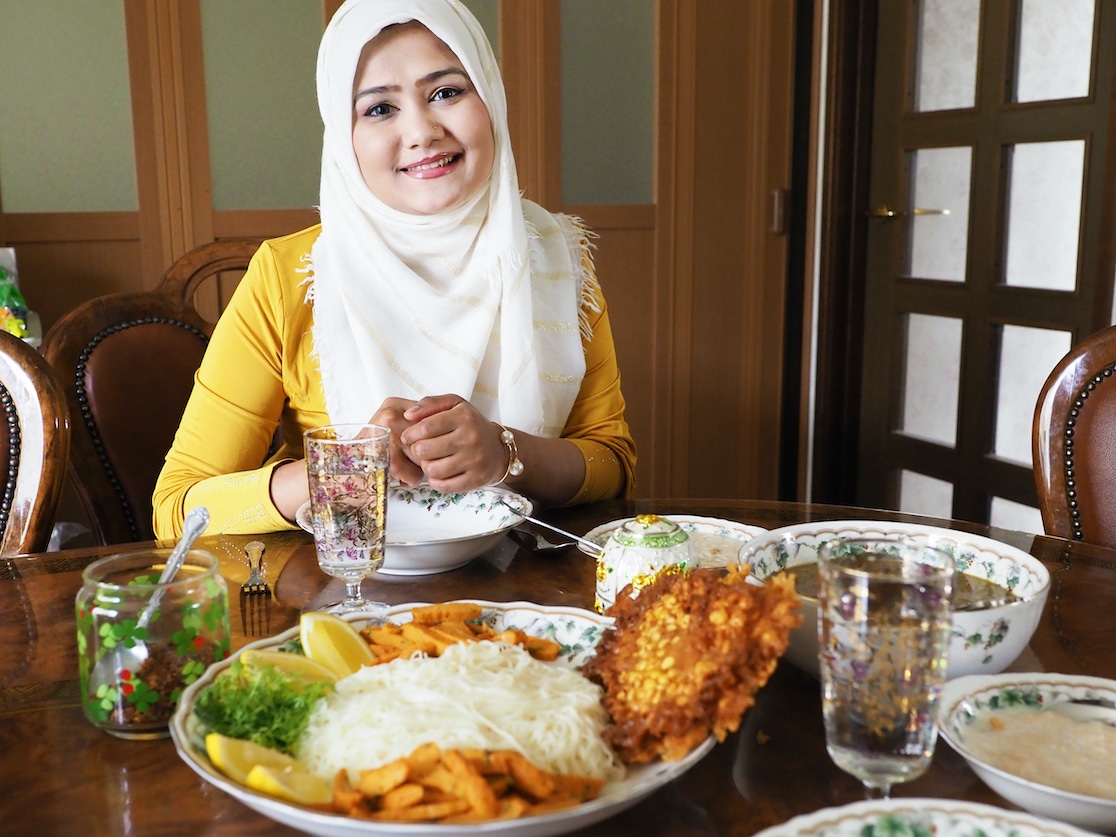 Rika Hasegawa, a Rohingya woman with Japanese nationality, cooked her hometown food. Photo by Natsuki Yasuda.

――― Please tell us the unforgettable scenes, scenery, and words that you have actually seen.
We have been interviewing the families of Syrian refugees who have been quietly evacuated to a small apartment in the Kurdistan Region of northern Iraq. Marwa, a woman I met in 2016, was one of them. Marwa 's hometown is Aleppo, the second largest city in Syria, which was destroyed by the fierce battle. When she fled to Iraq, she had no place to sleep and had to set up a tent in the square in front of the shopping mall or stay in the ruins to shelter from the rain and wind. It seems that they had kept living such harsh life.
After that, she married a man who also fled from Syria at the age of 15. When I first met her, she was 16 years old, expecting a baby and doing household chores with a big stomach. Some refugee families lead unstable lives while worrying their young daughters will be in danger of being single and let them marry early with the thought of reducing the family's burden to raise them. However, the sooner they get married, the less opportunities they have to study and receive education at school. Marwa's life was tough and lived on the job such as cleaning the car that her husband had barely found.
The family sleeps side by side in a room of the apartment every night. It was before the sunrise in the early morning of the day after I stayed for the night in the apartment. "Oh, my goodness! The baby's coming!" said Marwa, who was taken to the hospital by taxi on the still dark road.
Marwa had a miscarriage once when she was 15 years old. The doctors were worried about the physical condition of young Marwa, but a healthy baby was born two hours after they got to the hospital. Marwa, who had been worried until giving birth to the baby, said "I want to show this child my hometown in Syria someday", which has become her new dream.
There is no prospect of returning to her hometown, and the mother and her child will have to go through a tough road. Even so, it was the moment when I released the shutter with joy in my heart for the first time in Iraq, where the turmoil continued. "Don't give up telling the story to the world", I even felt the child had pushed my back. In my heart, I spoke to the tiny life that had no name yet. "Welcome to the world. We adults will create a future that makes us truly feel happy that you were born."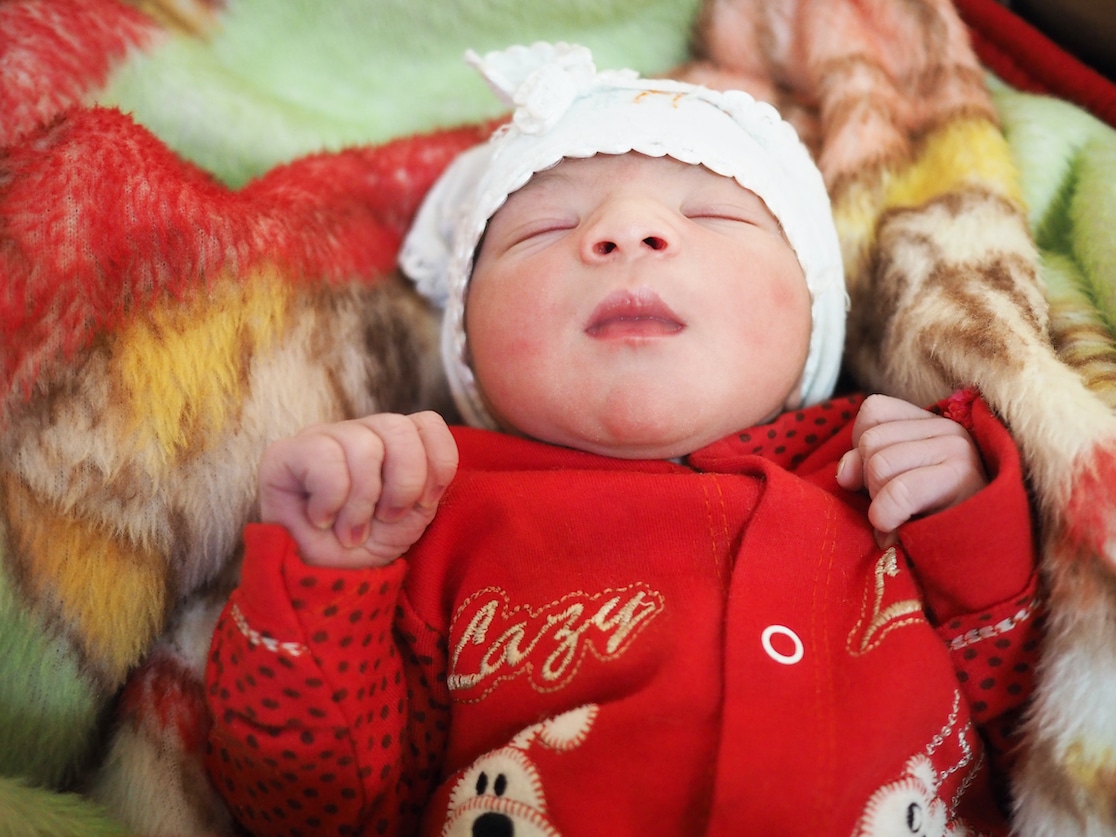 A baby born in the Kurdistan Region, northern Iraq. She was later named "Sara". Taken by Natsuki Yasuda.



――― I think your activities require a great deal of vitality to face important social issues and continue to convey the reality. What is the source of your vitality?
I think that all the interviews are "gifts". I always want to keep in mind the feeling of being given the other person's time, words and experience. What can be returned to those who recalled their painful experience, struggled to put it into words and shared it with me? That is the best motivation for me to continue the interviews.
In addition, the picture can only be taken by going to the actual spot. In other words, going to meet people is like a job. The children I have been photographing in Rikuzentakata since 2011 have become high school students, college students or working adults, and every time I look through the viewfinder, I can feel their growth. I also took a picture of that baby born in Iraq with a gentle feeling. I think it was the people who helped me through the interviews have taught me that encountering people is full of joy.
――― After listening to your thoughts, I can feel your intention to move toward the brighter side with looking at the world with gentle eyes. What are your future dreams and life goals?
I think many people have been exhausted due to the corona situation that has lasted for nearly two years. However, there must be many people who have suppressed their anxiety by tell themselves that "There are people who are experiencing a tougher time than me" and "I should not whine". The life is especially hard for people who are trapped in unsafe homes with the issues such as domestic violence. The words that support my heart is the phrase "What was weak was not the individual, but the support of society" which was previously used in suicide countermeasure posters. In today's society, where the word "self-responsibility" tends to fly around, I think it is necessary to give people gentle words like "you can talk about your anxiety" and "you can ask for help."




How to fulfill the role of "informing" after "knowing"
――― ARTIDA OUD has built a school in India under a project called "I am" Donation. What do you think about "educational environment for children" in India?
In India, I have conducted interviews on how to protect children's rights from child labor. For children working in cotton fields, there were few options for them to get out of the situation despite the various risks such as long working hours and pesticides. What's more, the adults around were not aware that children were the subjects of rights. In addition to creating a school environment, I feel that it is necessary to take a multifaceted approach, such as whether adults can make a living without relying on the children's workforce and whether such awareness can be shared by the whole community. Furthermore, it is difficult for children to find a "role model" to envision the future in an environment where few adults who have ever been to school around them. Although it may take time, I think it is essential to create an environment in which such a "role model" can be generated.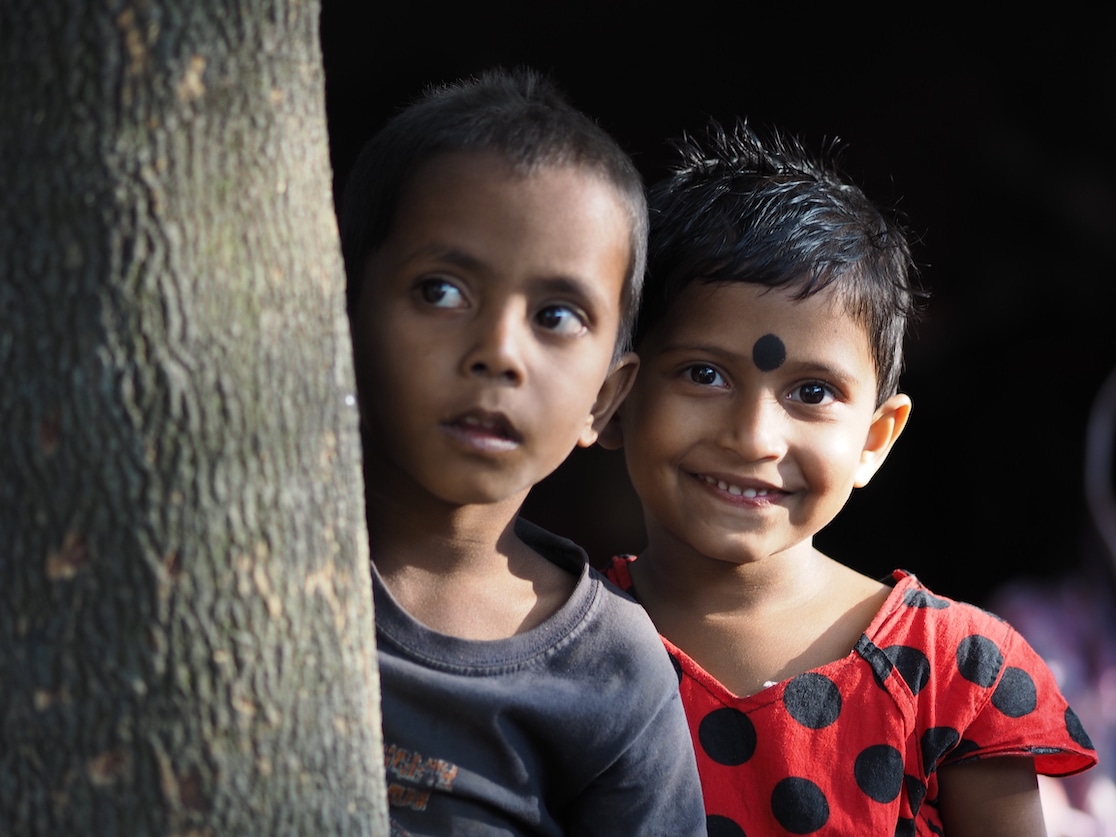 In a village on the outskirts of Delhi, India. Photo by Natsuki Yasuda.
――― ARTIDA OUD is performing activities with the hope that people will think about problems that are occurring on the global scale through items such as jewelry that are familiar to us. Could you make a comment on "I am" Donation?
I think that items such as accessories can deliver a message in everyday life. Conversations can be started with "The bracelet is lovely! Where did you buy it?" and the stories of the Indian women can be shared with people around you. If you can present it to a friend, it will be an opportunity for her to remember "this bracelet was made by Indian women" when she puts on the item every morning. If there is an opportunity to come into contact with it in daily life, the casual way that you used to watch the news will change gradually.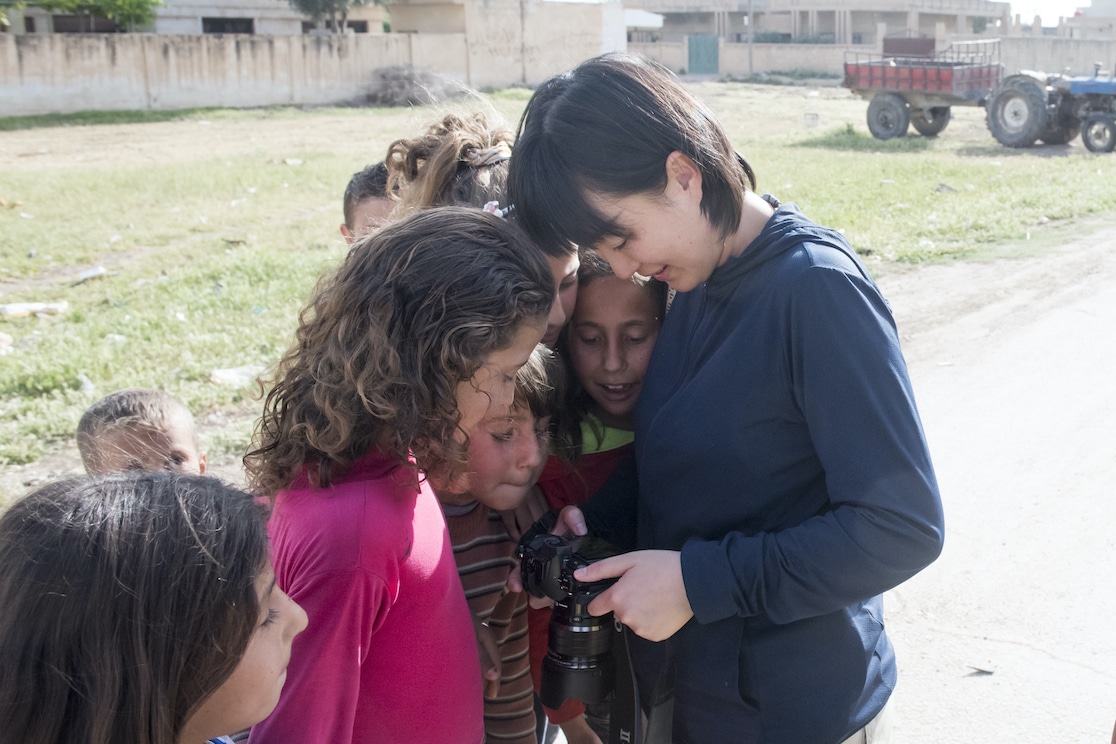 ――― In addition, this brand has put forward the theme of "beauty as it is". What is "beauty" to you after experiencing various scenes in the world? We would appreciate it if you could freely tell us the scenes, people and thoughts that come to mind.
In recent years, has been a growing voice to break away from "lookism". It is usually regarded that the "beauty" considered from the perspective of majority applies to minority as well, especially due to the existence of force asymmetry between social majority and minority. I think it is important to take actions against this suffocating viewpoint. From whose perspective is "beauty" decided? For example, do men only look at and judge women from the perspective of "consumption"? I think it's time to reconsider the things "taken for granted" so far.
――― I think that "beauty as it is" also has inner beauty. Please tell me any words, books, movies, etc. that has made who you are today.
A novel that has recently influenced me is Kyoko Nakajima's "Gentle Cat". It depicts a love affair between a man called Kumara from Sri Lanka, whose nickname is Kuma, and Miyuki who is a Japanese single mother. Since the story was narrated by Miyuki's daughter, Maya, the problems that look complicated can reach people's heart more easily.
When Miyuki told her friends about Kuma, she was given plausible "advice" such as "Is a foreigner okay?", "Because my friend's friend ...". Miyuki herself, who was trying to argue that "Kuma is not such a person. He is very reliable" realizes that the idea itself is a prejudice. And her daughter, Maya, has also come into contact with the actual situation of her generation, which she had never known before. The parents of the Kurdish boy, who she fell in love with, were applying for refugee status and he was born in Japan but lived without a status of residence. In the position of "provisional release" living outside the detention facility without a status of residence, he is not allowed to work or enter health insurance, but Maya, who has just met him, does not know such details. She couldn't have imagined that the person she fell in love with was forced to obey the unreasonable "rule" that prevented him from freely crossing the prefectural border.
In recent years, the issue of immigration detention in Japan has finally become known due to the case of Wishma Sandamali from Sri Lanka, who died in the Nagoya Immigration Bureau. It is an excellent work that gently unravels the problems of "what is the accommodation of evacuees" and "what is human rights".
――― The theme of this year's "International Day of the Girl Child" is "an opportunity to think about what we can do in Japan". I think there are many people who are interested in social issues, but "don't know what to do." Please give them a message.
The first thing we can do is "knowing", but I think the problem is the way to fulfill the role of "informing". Many people feel that it is a high hurdle to suddenly talk about social issues to others. In such a case, why not try to suggest like saying "Wanna come to a restaurant opened by refugees?" or give gifts by saying "this accessory is made by Indian women" to let more people "want to know" started from "culture"?


" Wishing for a world where girls can dream again"(International Day of the Girl Child 2021)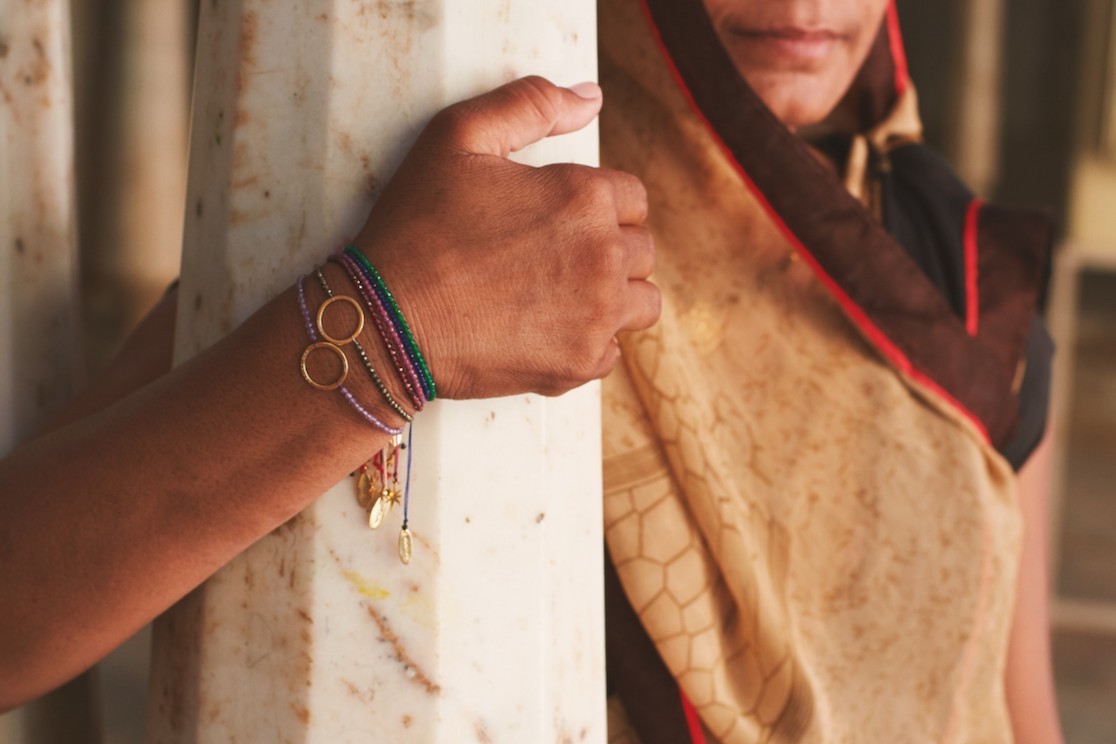 PROFILE
NATSUKI YASUDA
Born in Kanagawa prefecture in 1987. A photojournalist belonging to the NPO "Dialogue for People (D4P)". Deputy representative of the organization. At the age of 16, she interviewed children in poverty in Cambodia as a reporter of friendship for "Children with No Borders". She is currently interviewing refugees, poverty and disasters in Southeast Asia, the Middle East, Africa and Japan, and has continued to record the conditions of the disaster-stricken areas centered on Rikuzentakata City since the Great East Japan Earthquake. She has published "The Work of Communicating with Photographs-Facing Children in the World -" (Japan Photo Planning), etc. She was graduated from Sophia University. She is currently appearing as a commentator on TBS TV "Sunday Morning".
Twitter
https://twitter.com/NatsukiYasuda

Dialogue for People
https://d4p.world/


EDIT/RIDE MEDIA&DESIGN
TEXT/HANAKO FUJITA