Juri Ko Edwards / Yoga Instructor & IGNITE YOGA ceo
"IGNITE" is a word that means "to light a fire". With this word as the base of her philosophy, Juri Ko Edwards runs a yoga studio where people can create their unique life in their own way.

In her first year of high school, she went abroad to see the wider world. While studying Sports Science and Peace Studies, she discovered the appeal of yoga that deepens the breath and releases stress and negative energy. It is also a time to reconnect with one's own essence and light a fire in one's heart. IGNITE YOGA's desire to "provide time to connect with one's own self" resonates with ARTIDA OUD's wish for "women all over the world to be who they want to be", and together they have started the "I am" Donation Project.

If you purchase a set that includes a bracelet, which was handmade one by one by Indian women & an online yoga class & vegan nail polish, a portion of the proceeds will be donated to help educate the children in developing countries. Six kindergartens have already been built in Bihar, India, but this journey is not over.

In this interview, Juri Ko Edwards will talk about her past experience, and her thoughts on the "I am" Donation project.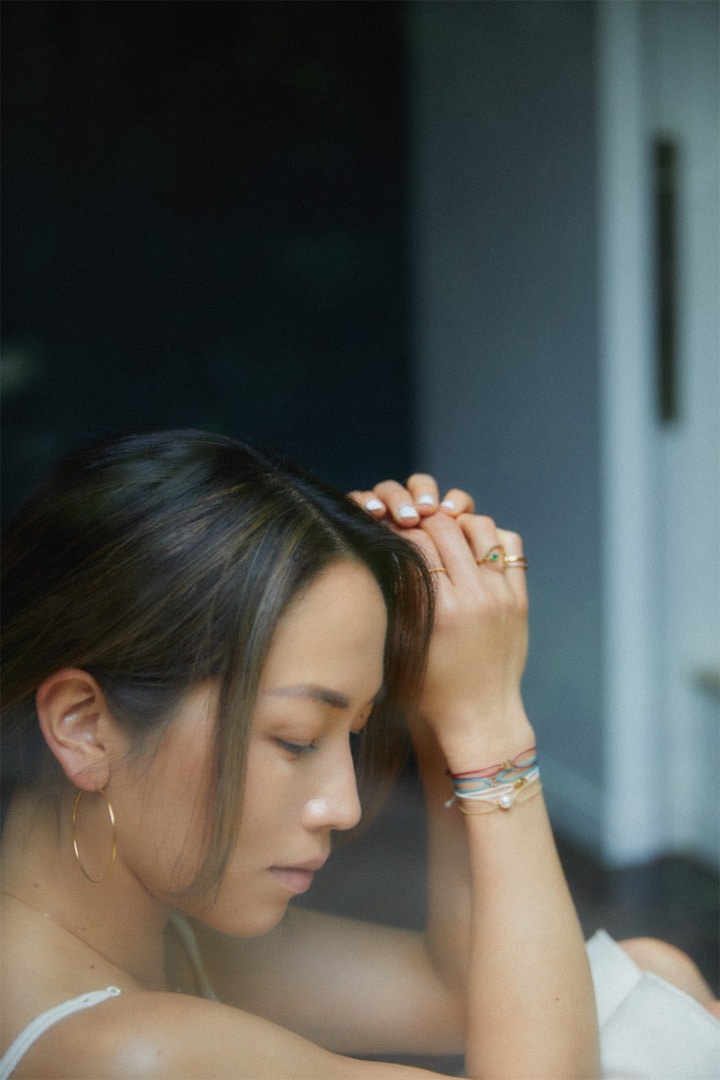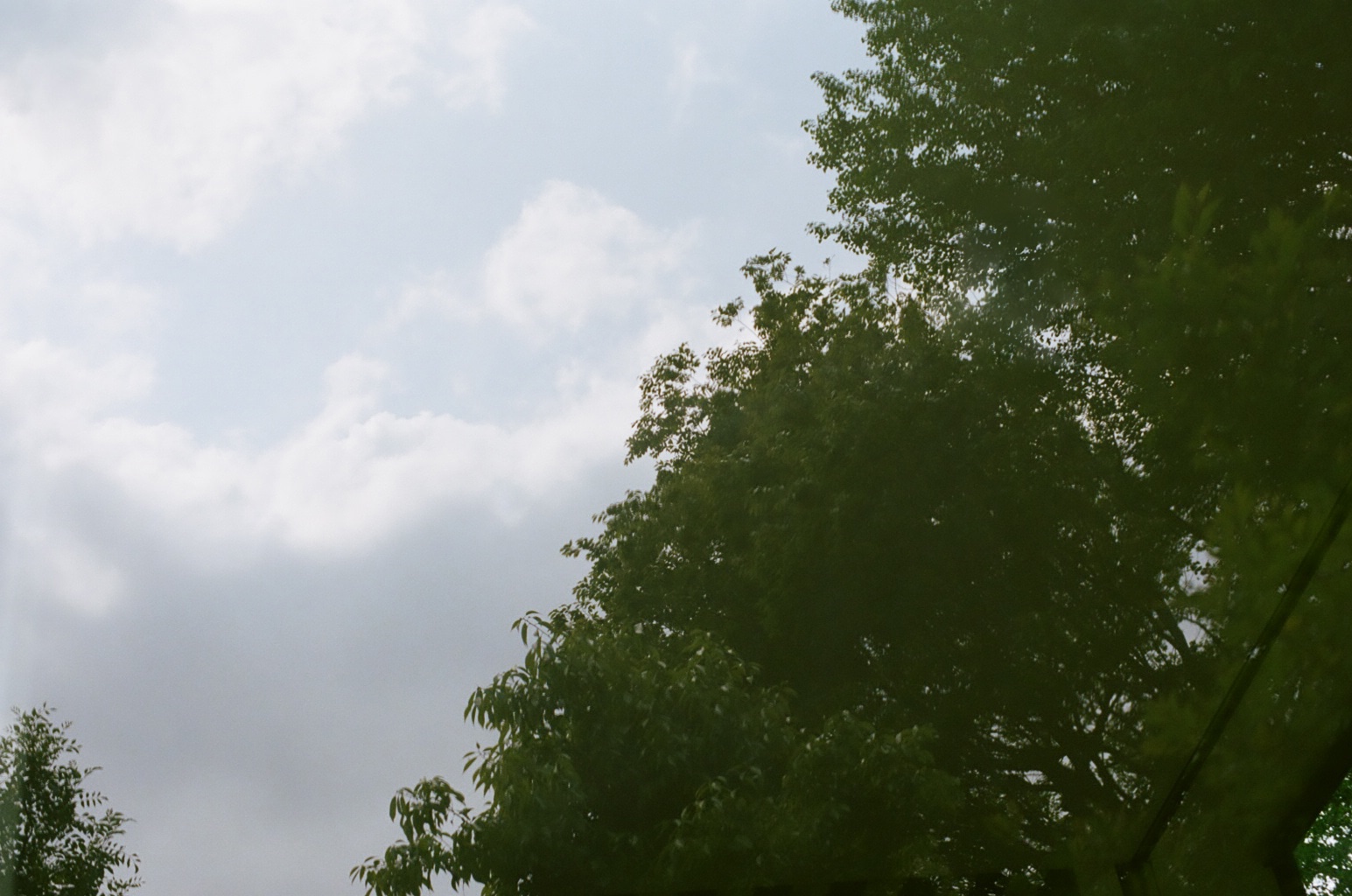 It is not about improving yoga skills, but about discovering your true self.

ーーーYou are active as a yoga instructor and wellness curator, what made you decide to pursue a career in yoga?

I first encountered with yoga while attending college in California. At first, I didn't do it seriously, and then I moved to Hawaii because I loved surfing, and while studying Sports Science there, I wanted to deepen my yoga practice a bit more, so I took a teacher training course (a 200-hour course). I studied philosophy and anatomy in earnest.
However, at that time I was working as a personal trainer, and I led a very active lifestyle, such as competing in a race called Ironman (consists of 3.8km swimming, 180 km cycling, and finally a full marathon) and I was not teaching yoga. I happened to audition for a new studio and started teaching yoga then.

ーーーI heard that your style of yoga is unique, what is it like?

IGNITE YOGA classes incorporate fitness elements. It's a modern style to do yoga with music. As I have mentioned, I like to move my body, and one of my favorite activities is yoga. My personal impression about yoga is that there are a lot of rules, and organic lifestyle is emphasized, and there is a concept of "this is the way it should be". That is why I try to explore innovative ways of yoga and focus more on having fun and moving the body comfortably than getting better at yoga.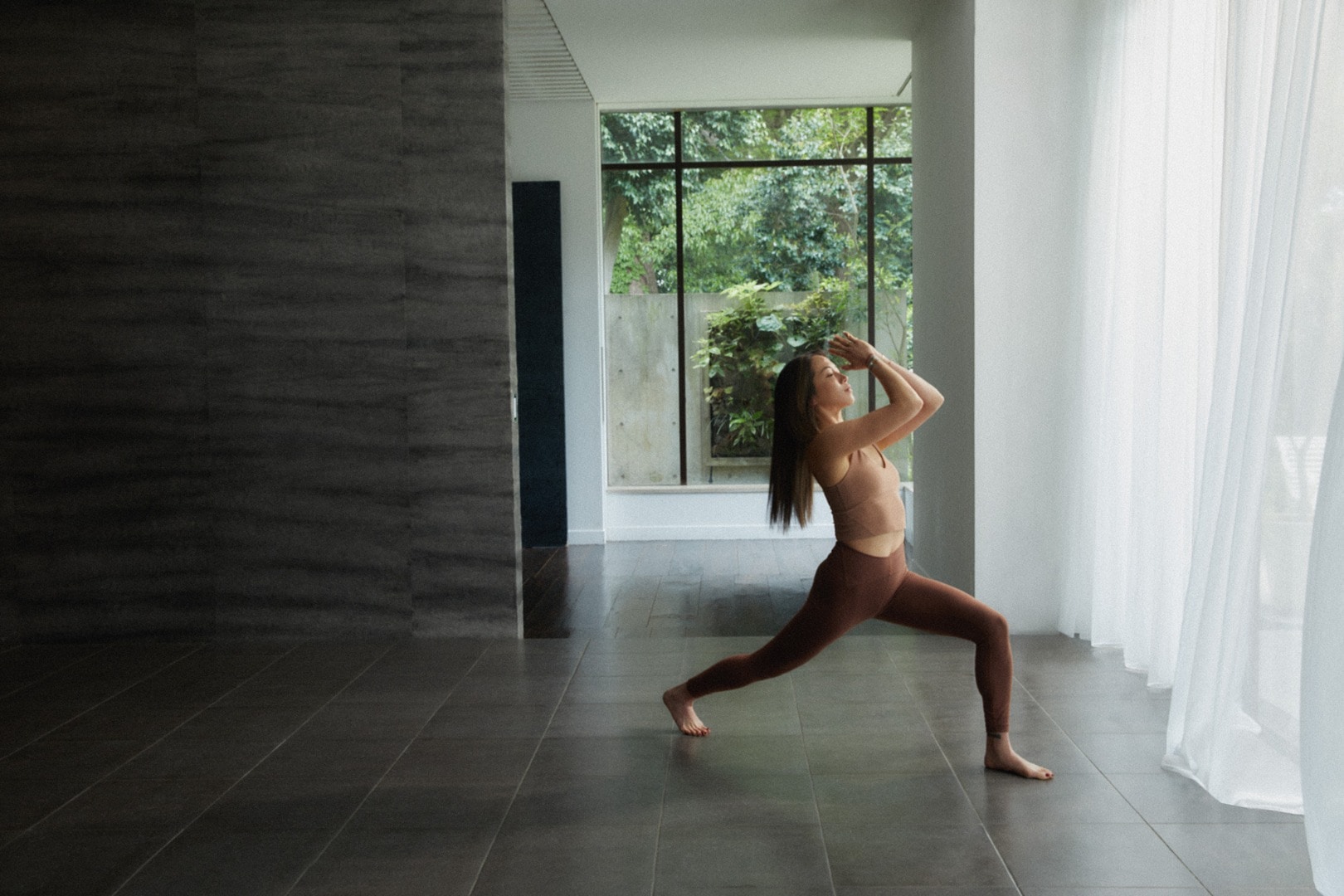 ーーーIGNITE YOGA has put forward a concept of "providing time to connect with one's own self", hasn't it?

There are so many things to love about yoga, but one of the most interesting aspects is that you can apply what you have been aware of and perceived on the yoga to the real world. As my motto goes, I believe it is important to do yoga not to improve your yoga skills, but to enrich your life and reflect on yourself. Whether it's my students or myself, I believe that everyone has his own unique way of dealing with yoga, including the life rhythms and state of mind, so do not try to fit into a mold.

As what is mentioned above, at IGNITE YOGA, we respect the personality of each instructor when conducting classes. We provide a playlist of music selections and tell an anecdote that can be a source of inspiration. At the beginning of the teacher course, there is a workshop where you can discover your true self and your value, and look back on your past to face yourself deeply. Skills are important, but I believe that mind is equally important.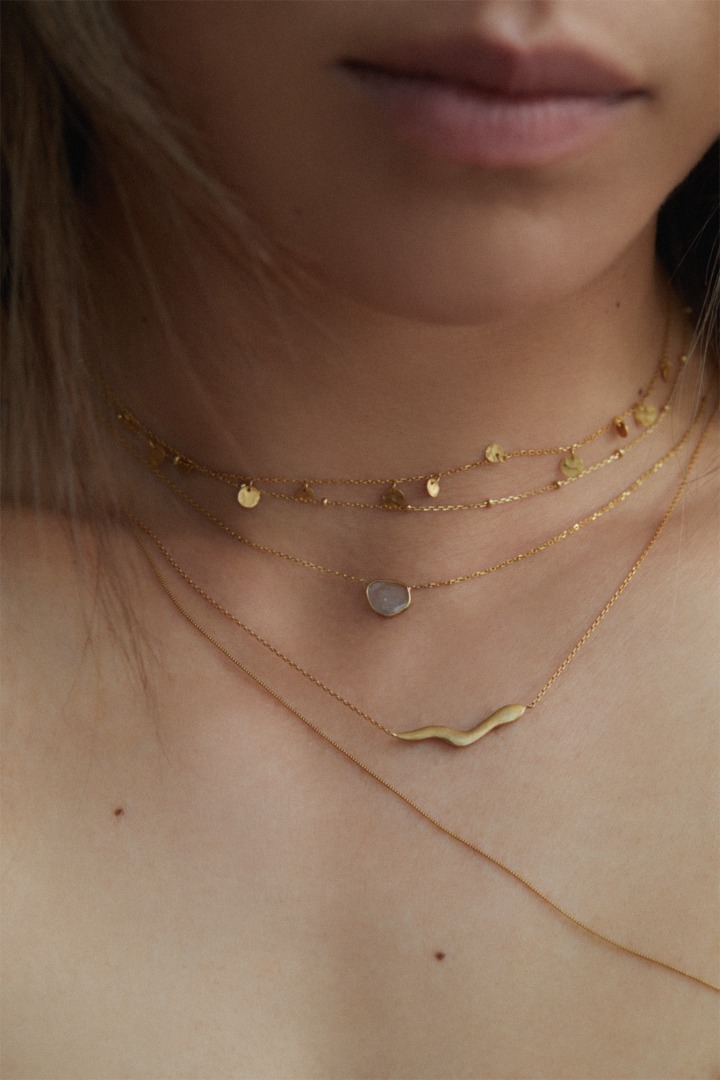 ーーーHave you had any happy moments through doing yoga?

There are a lot... We had been streaming live yoga on social networking sites every day for three months starting around the time when the new coronavirus infection spread. It all started when a woman I respected very much contacted me and told me she wanted to receive private lessons. She looked anxious about the changes in the world, but after the lesson, she smiled and said, "I'm really glad I came", so from the next day onwards, I decided to start delivering an Instagram live every single morning at 8:00 a.m. without fail. When I think back on each message I received at that time, I can still feel tears welling up. One message said that she called her mother every morning, who lived a long distance away, and asked her if she was going to do yoga, and one message said that she was able to open up to her family about her own gender issues after hearing our talking about "being yourself" online. It was so moving to see how everyone became more and more positive through yoga. I was crying when I read the messages.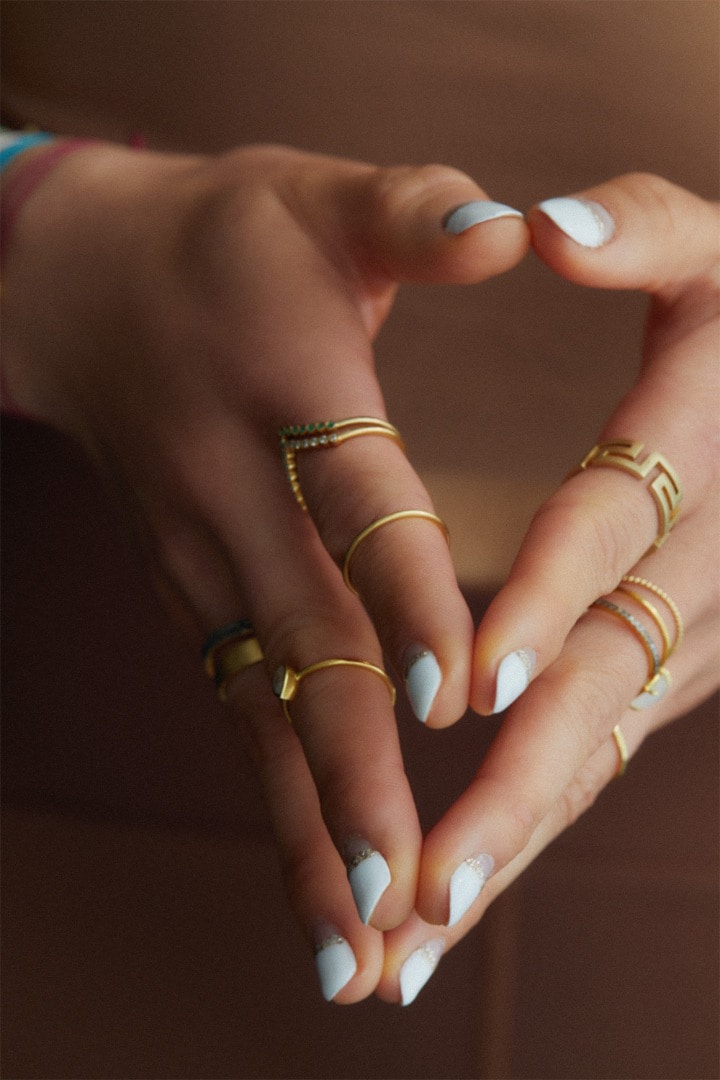 A project that came true 12 years ago. That dream moves forward again.

ーーーWhat was a moment that has moved you recently?

The reason I came back to Japan was that I was involved in the launch of a yoga wear brand called "lululemon". When I was an ambassador for the brand in Hawaii, I was approached by a woman named Amanda, who was the Asian representative for "lululemon". She is a very important person to me, and every time I talk to her, she makes me realize my potential. Just the other day, it was the 4th anniversary of IGNITE YOGA Studio Harajuku, and Amanda happened to be in Japan, so I was able to show her the studio for the first time. I was happy that she could see the studio and the person I am now.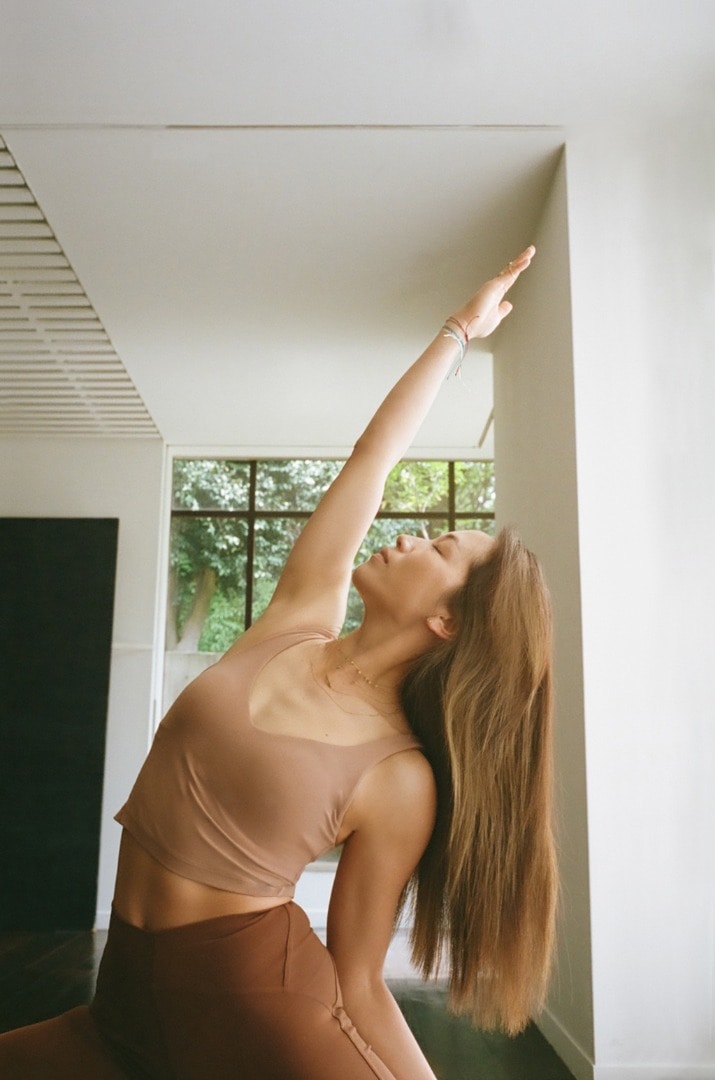 ーーーYou have lived abroad for a long time. What are your most memorable sights?

When I lived in California, I was quite impressed by the view while I was meditating on the rocks in a gorge called St. George, which is really unforgettable for me. Also, surfing in Hawaii. I went out to the ocean every day and the sunset from the ocean was beautiful, and when I stayed in India for about 4 months, there was an old man I was friends with, and the moment I got a ride on the back of his moped and watched the sunset in the desert was also memorable.

ーーーDid you go to India for yoga?

It had nothing to do with it at all. I was studying Peace Studies at a university in California. I have learnt about Gandhi's philosophy of non-violence. America is an interesting country, and there are some programs, the credits of which you can get in different countries. Since this is the case, I decided to go to India, and spent one month in Jaipur studying Indian culture, history, and Hindu language, and I decided the theme and spent the remaining 3 months on fieldwork. I lived in a village called Nagar, about 3 hours away from Jaipur, and taught English at an elementary school while interning at an NGO there.



ーーーJaipur is also the city where the jewelry of ARTIDA OUD is made, so there is a connection between ARTIDA OUD and you, isn't it?

It's amazing, isn't it? But teaching English there is only ostensible. Actually, the girls were not yet able to go to school, so I wanted to show the villagers that even women could become schoolteachers if they studied hard enough. Another theme was to show the teachers how to teach in a way that is not only strict but fun too. The NGO staff could not speak English, and it was very hot, so the life there was not easy, but we had a lot of fun, laying futons on the roof and sleeping together at night.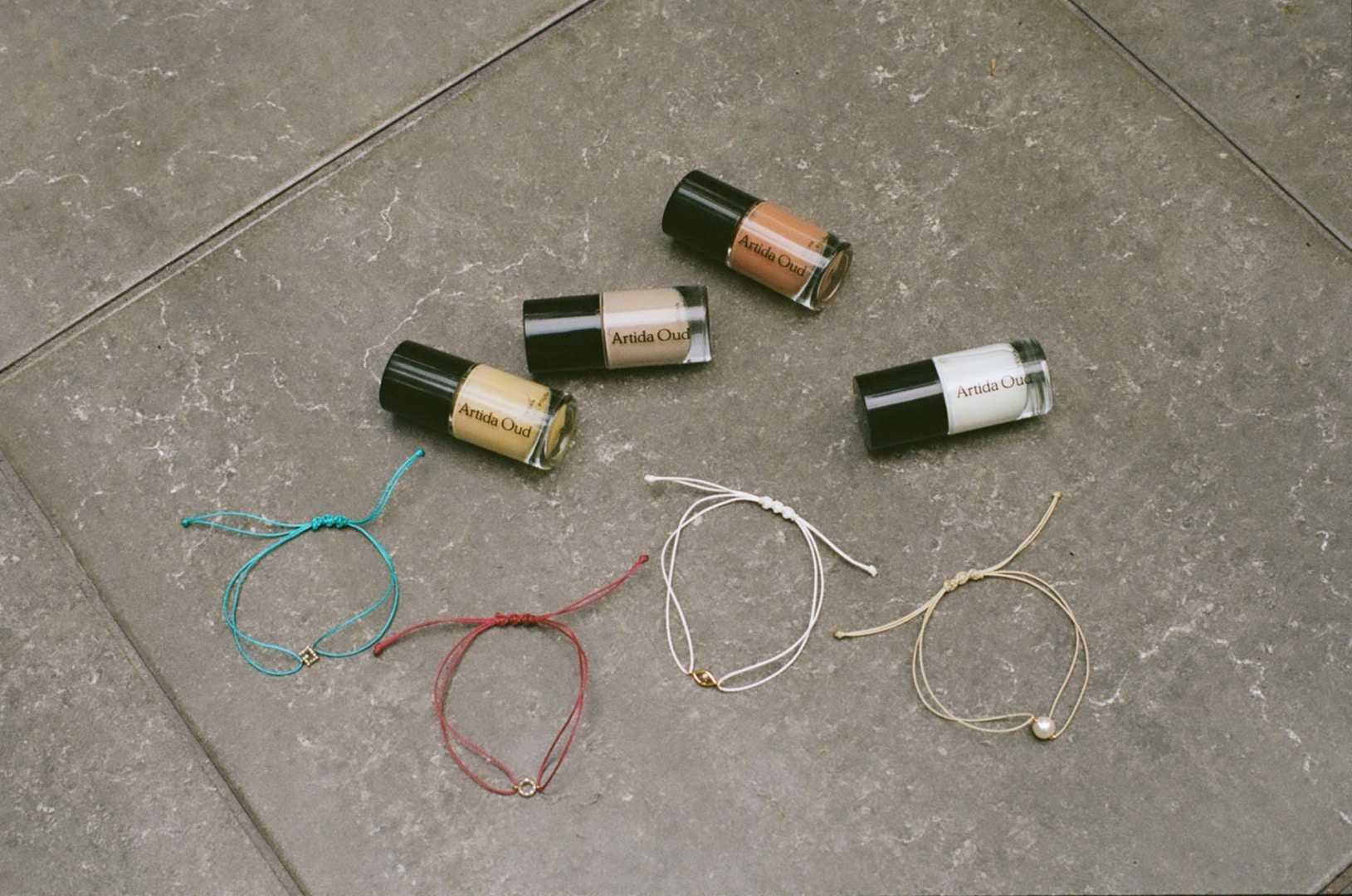 ーーーIn the "I am" Donation project to be collaborated this time, a portion of the proceeds will be donated to "Children's Educational Environment Improvement Program" in the state of Bihar in northeastern India. How did you feel after having experienced the local life?

The term "developing countries" sounds very weird to me. "Developing" is our sense of value, and I think there are some parts we should share with each other, such as the strength of the community and the simple but rich lifestyle of the people living there. Having those feelings, after returning to Japan, I held a charity photo exhibition titled "SHARE YOUR HEARTS" using the photos I had taken there as a communication tool. We felt that what we needed to share was the importance of education, and we are honored to have Mitsubishi Pencil as the sponsor for the exhibition. Instead of an admission fee, we asked people to bring pencils. We sold Mitsubishi pencils at the venue, and the proceeds were used for travel expenses to deliver 7 boxes of pencils to that village. This was what we did in 2011.

ーーーYou have a sense of commonality with "I am" Donation project, don't you?

That's right! That's why I was so happy when I heard about it. "SHARE YOUR HEARTS" has been completed once, but it is not over for me. At that time, I had just graduated from school, but I wanted to start yoga again someday when I became a well-established person in the society. And since yoga has its roots in India, I was hoping that one day I could do some activities that would connect these elements.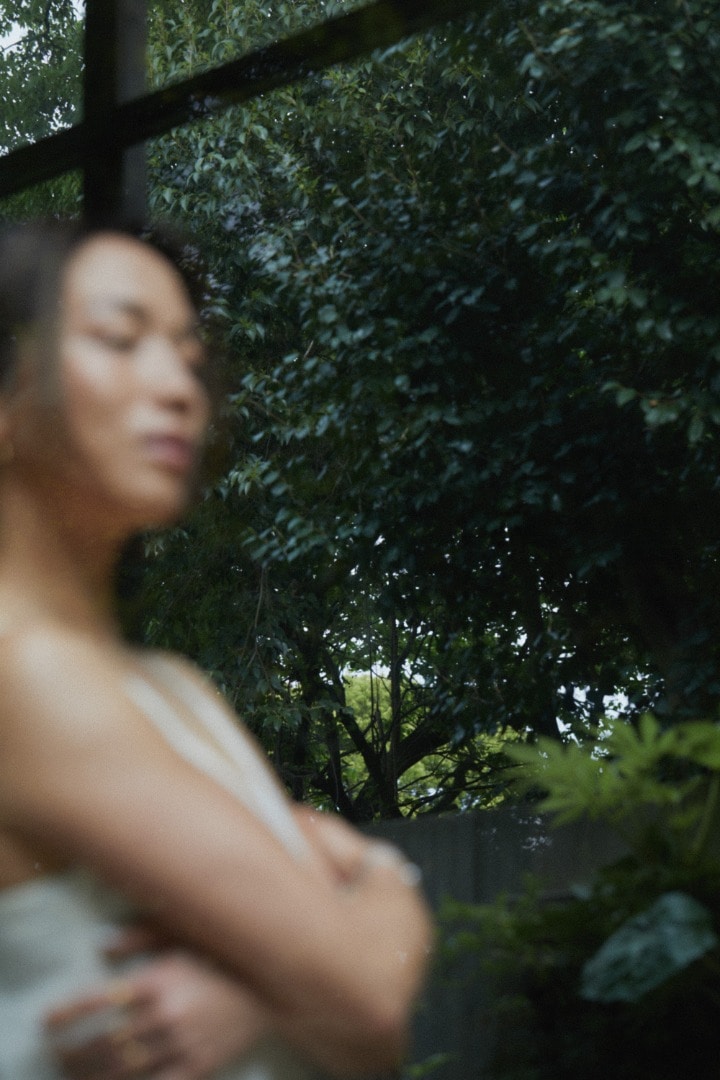 When you do yoga, you will be conscious of your surroundings. Take a step forward with that feeling in mind.

ーーーFour types of collaboration bracelets are available.

IGNITE has many chic items, and I chose basic beige and white. I chose the other two because I wanted to include refreshing colors. When you go to a wedding in India, it is customary to tie a red string around the wrist of each participant. I chose red because it has a sense of blessing. I want to wear it while I am doing yoga.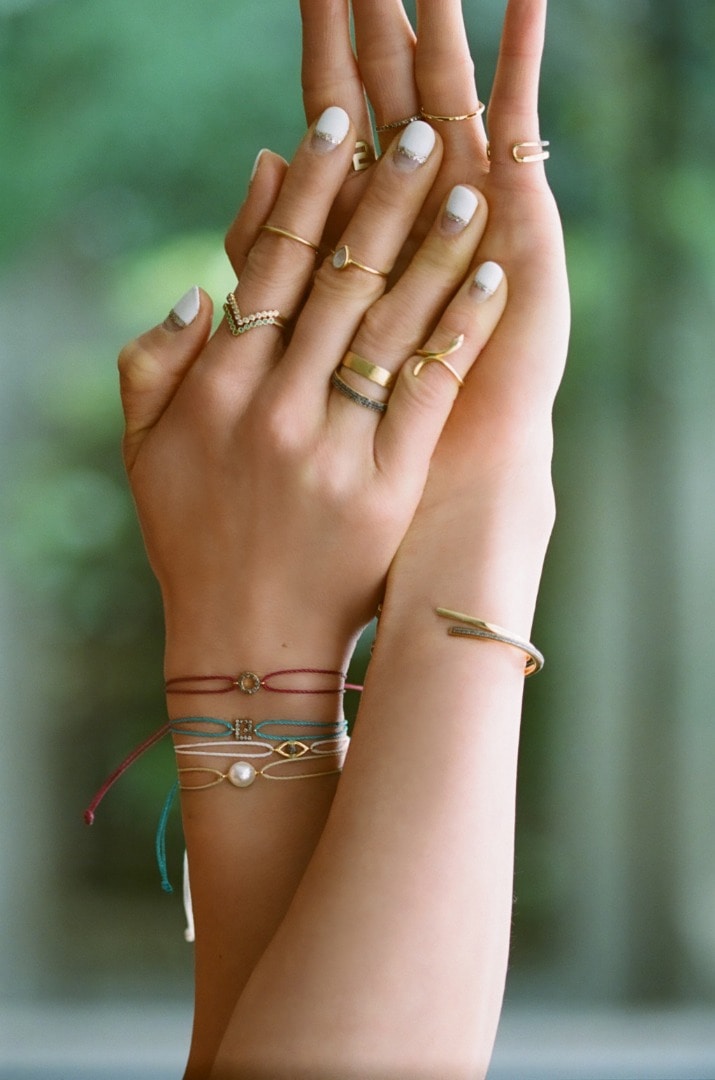 ーーーARTIDA OUD is based on the theme of "raw beauty". What does "beauty" mean to you?

Beauty is who you are. I think it takes courage to show your true self, especially in such a society that we're living in. Even so, it is important to show your true self. In other words, I believe that your true self is a weapon that only you possess.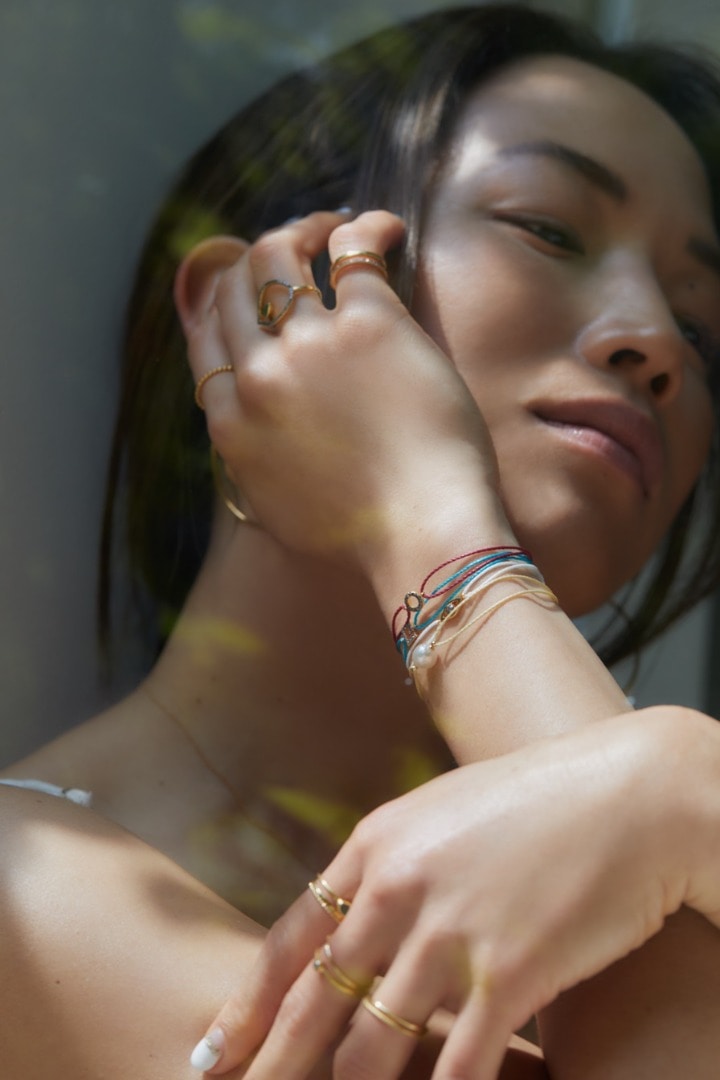 ーーーEach stone used in jewelry possesses its own unique inclusion and color, and properties that has been formed over a long period of time. How do you think a person's personality is formed?

We realize a lot while spending the time facing ourselves through yoga. Through these realizations, you get to know more about yourself, and from there you realize something else... I think that getting to know yourself deeply and fully in this way will lead to your personality development. And I somehow think of champagne gold when I do my meditation every morning. I suppose it is one of the aspects of my true self that I discovered recently.

ーーーI believe that the raw beauty comes from within. Please share with us any words or works of art that have helped you grow as a person.

You may be surprised, but I was never very good at public speaking. I was so nervous that I did terribly in the presentations at university. It was Maya Angelou's words that changed me at that time.

People don't remember what you say. They remember how you made them feel.

There was a time when I was just starting out as a yoga teacher and I used to memorize the entire lesson script word-for-word, but I realized that what was more important was energy.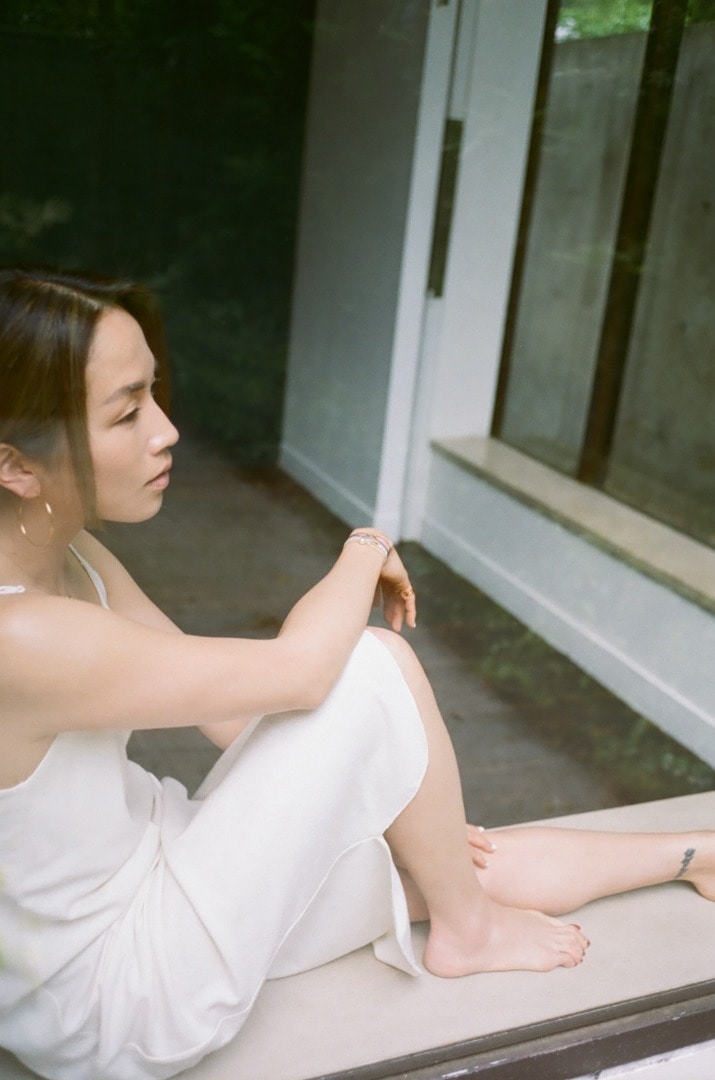 ーーーWhat is your favorite piece of jewelry of ARTIDA OUD?

I usually wear gold ones with simple design, so I liked them all! I especially like the emerald stones. My mother really loves jewelry, and she often gave me the jewelry she had for my birthday. I think it is something that is passed down in that way.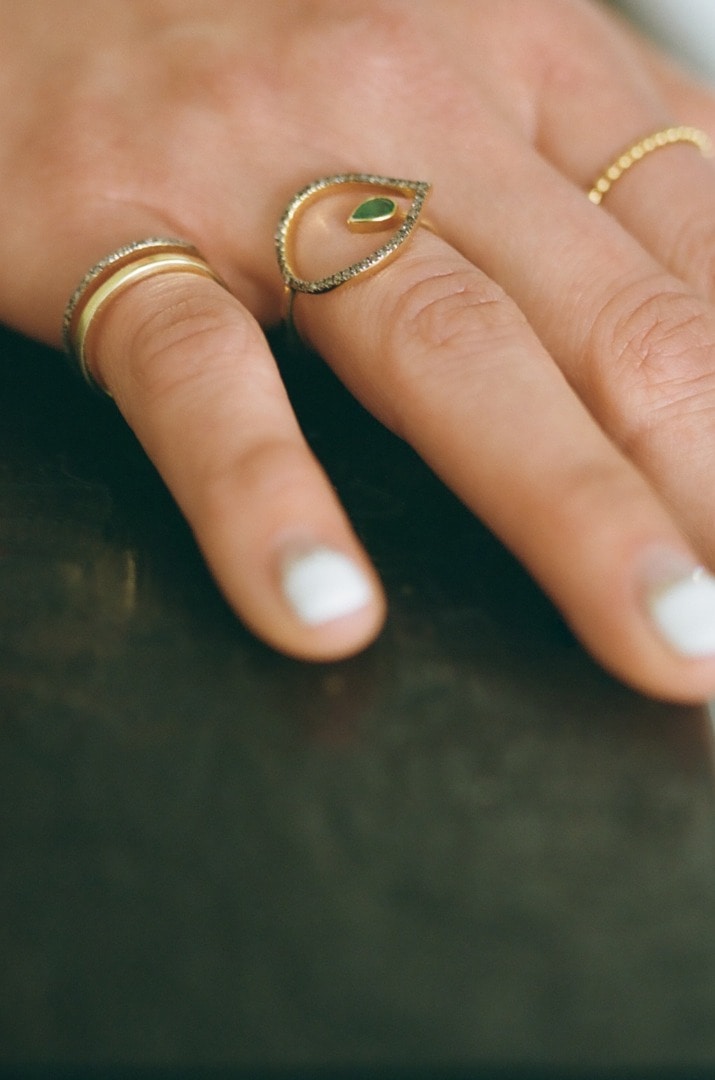 ーーーWhat is your dream for the future?

I would like to connect yoga and the activities of "SHARE YOUR HEARTS" someday. Especially when you do yoga, you tend to be conscious not only of yourself but also of those around you. However, I think there are many people who want to do something for others, and the problem is they don't know what to do. That is why I hope to contribute to society through the "I am" Donation Project and my own yoga activities. This is my dream.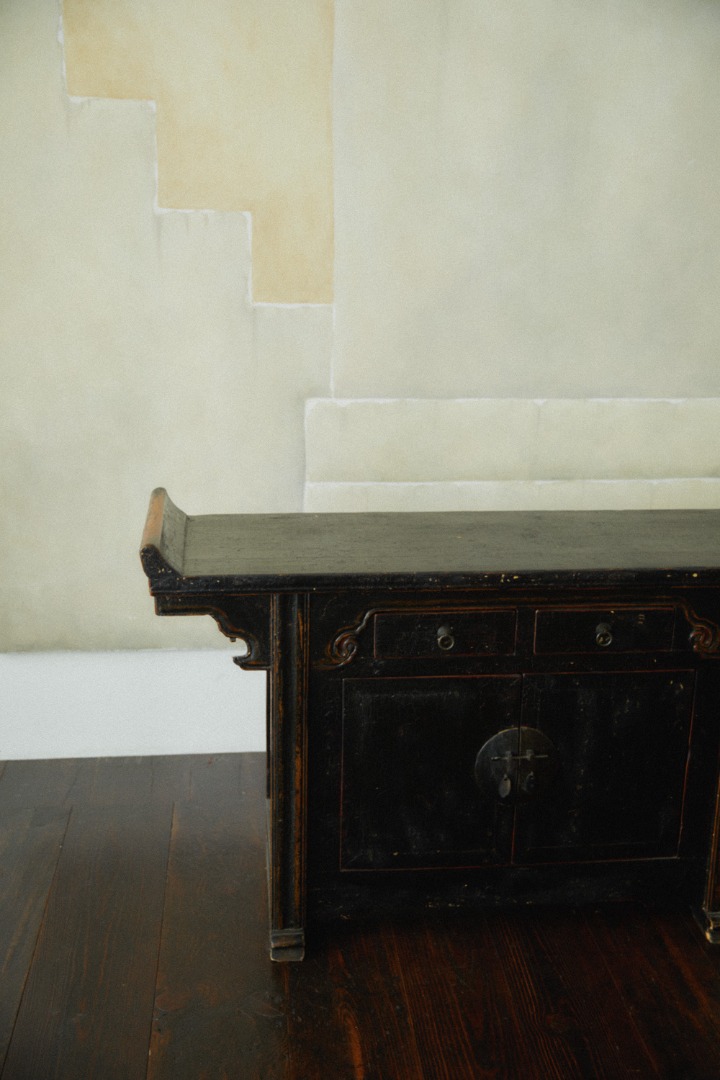 Juri Ko Edwards

Juri Ko Edwards was born in Tokyo. She first encountered with yoga during her time studying in California. After she moved her base to Hawaii and began her journey as a yoga instructor. Her unconventional style has been well received, and she has made appearances in numerous events as a renowned instructor in Hawaii. In 2015, when she was an ambassador for lululemon, she returned to Japan after being entrusted with the responsibility of launching the Japanese branch of lululemon. She opened IGNITE YOGA STUDIO in Harajuku, Tokyo, in 2019. In addition to yoga, she enjoys engaging in various activities such as surfing, triathlons, and snowboarding, and she has completed a full marathon in 3 hours and 45 minutes. In 2022, she opened her second studio at Shimokitazawa Reload. Recently, she has been expanding her activities beyond Japan, building a presence in international locations.

Instagram

PHOTOGRAPHER/YUYA SHIMAHARA
HAIR & MAKE-UP/YUSUKE SAEKI
EDIT/MARIKO ARAKI(RIDE inc.)
TEXT/HANAKO FUJITA(RIDE inc.)